It's summertime in New Zealand and that means the countries' unique natural beauty is illuminated for all to see and enjoy. There are hardly any better ways to take advantage of everything New Zealand summer has to offer than to find a nice open space, gather friends and family and enjoy a meal in a great company. Here are 5 tips to make your summer picnic the one to remember!
Pick the perfect picnic spot
The most important aspect of a picnic is WHERE you do it – even if you're sitting on an open field of grass, it won't be much of a picnic if your view is of a busy highway or a dingy industrial area. While views are important, you also want to pick somewhere away from the noise of modern society, and that lets you get engrossed in the natural sounds of New Zealand – especially the amazing songs of our world-renowned native bird species.
A few examples of idyllic summer picnic spots on both the North and the South Islands
North Island: Matai Bay, Stoney Point Reserve, Williams Park
South Island: Cape Farewell, Lake Mapourika Jetty, Pourakino Picnic Area
Of course, there are hundreds more picnic spots big and small for you to explore around New Zealand. Use the above as a point of reference to find even more great picnic spots!
If you really want to experience as much animal and bird life as possible, check out our list of great wildlife destinations around New Zealand.
---
Prepare some good food in advance
A picnic is often only as good as the spread you lay out, so make sure you get this part right! While it's easy to swing past a fast food place on the way or grab a roast chicken and some sliced bread from the supermarket, the picnic will be far more memorable if you bring some wholesome home-cooked food for everyone to enjoy.
You obviously want to first take into consideration any dietary restrictions and/or allergies your group may have between them. You also want to prepare dishes that can be enjoyed cold and that don't need a stable surface area to eat properly (it's hard to ask people to cut up a steak when they're sitting on a picnic blanket and not a dining table).
Try throwing together a quick Italian beef pesto salad and serve it with a great pairing of wine to complete the meal. Since you're going to be outdoors and likely participating in a few activities after your meal, it's a good idea to prepare food that's light on the stomach but packed-full of energy.
---
Plan activities
No matter if you're young or old, there's always some kind of physical fun you can engage in while enjoying a summer picnic in New Zealand. While a large grassy field is normally all a child needs to have fun, it never hurts to bring along some sports equipment like a small cricket set or even just a soccer ball.
Since it's summertime, it's can be smart to combine fun with ways to beat the heat. Buy an inflatable water slide, or arm everyone with their own super soaker and start drawing battle lines.
---
Make it comfortable
While the point of a picnic is to sit on the natural earthen ground and enjoy a more casual dining experience, it doesn't mean you can't be comfortable. Sitting on the uneven ground gets irritating after a while, so why not bring throw pillows for people to sit on or lean against?
Some people even bring inflatable furniture to their picnic so they can relax in comfort after the main meal is done. There's really no limit on how much extra luxury you can bring with you – but be careful not to get carried away!
You can even set the mood with some summertime feelgood anthems by bringing along a portable speaker and connecting it to your phone via Bluetooth. Listen to our December Spotify playlist for some inspiration!
---
Be sun-smart
A great summer picnic can quickly turn into a nightmare when you wake up the next day looking like a fire truck from sunburn. The danger is even more severe when you have young children with you, since they are much more susceptible to harm from UV radiation than adults.
Always make sure you have shade over your picnic or at least make sure everyone is wearing hats, clothes that cover their extremities and a generous helping of sunscreen. Most people never apply enough sunscreen to actually protect them for the duration of their exposure, often only doing a single thin layer – so make sure you really lather it on!
Hopefully you find the above tips useful on your next summer picnic in New Zealand!
Liked this post? Pin it!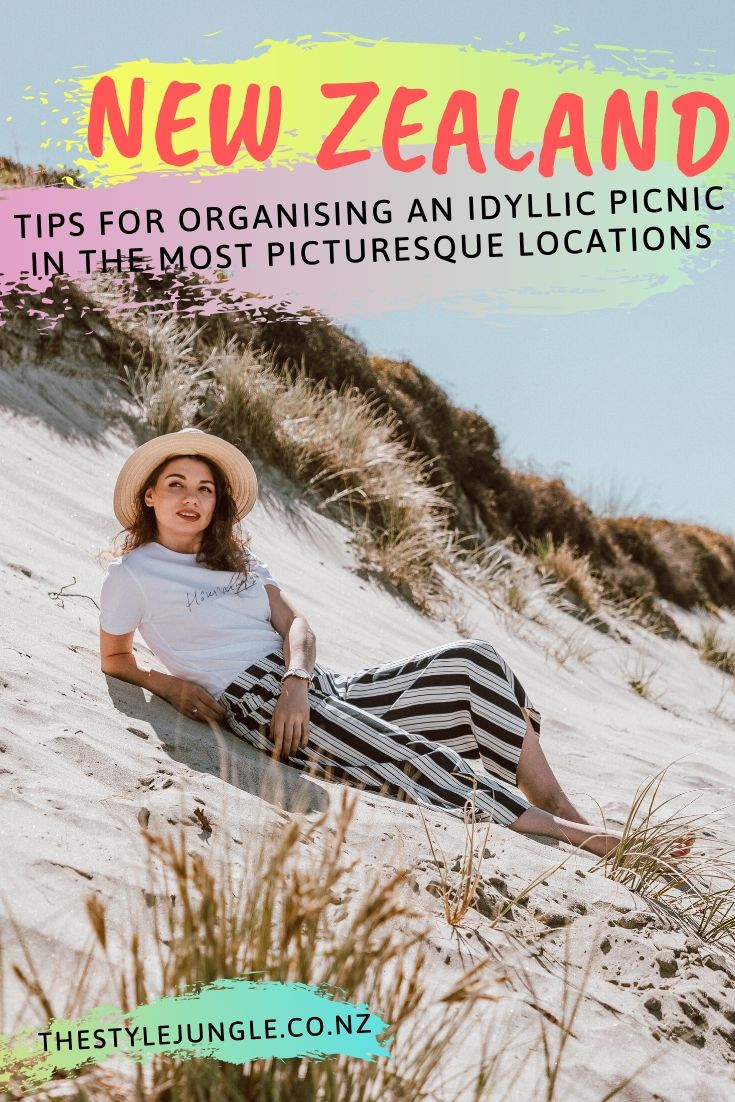 Disclaimer: this post contains affiliate links. We will receive a small commission if you purchase something by clicking on one of the links. You're NOT paying extra for that.