Queenstown is ridiculously beautiful. Surrounded by snowy mountains, it hugs glimmering Lake Wakatipu and peacefully rolls from one hill to another, hiding the most breathtaking views at every turn. Also known as 'the adventure capital of the world', Queenstown is, hands down, the most desired destination of the South Island of New Zealand. Its location makes it a great starting point for pretty much any local adventure you can only think of. Here are a few things you definitely can't miss in Queenstown!
Queenstown Skyline Gondola
$44 and you're 450 m up the hill with unparalleled views over Queenstown. While you're there, slow down, grab yourself a cuppa and soak in the moment. Add another $17 and you also have two fun luge rides down the hill.

Dinner at The Grille by Eichardt's
Queenstown is buzzing all day long but it's evening 'apres ski' time when the town truly lives it's best life. Streets still bathing in the last rays of sun before it gives its way to South Island's well-known evening chill, street artists performing everywhere, people still licking ice cream but already secretly regretting they didn't buy hot coffee instead, there is music, there are laughs, there is LIFE! And this is the moment, when you want to be at the very centre of this all, to enjoy the heartbeat of this adventurous place, to catch a smile of a stranger and return it and, of course, to admire the views no other place in the world can beat. To do that all and to have the most delicious, beautifully served dinner in a nice atmosphere of a relaxed, yet sophisticated restaurant, book a table at The Grille by Eichardt's, located right at the waterfront, at the very heart of everything that's going on in Queenstown at night.
This place is not for budget tourists, be prepared to pay around $20-$30 for entrees and around $30-$50 for mains. But trust me, you won't regret it! Read more about our amazing dinner at The Grille.
Trip to Milford Sound
New Zealand's most visited attraction, Milford Sound is known for its endless rains. It rains an average for 182 days per year here and up to 250 mm of rain can accumulate in just 24 hours, making Milford Sound the wettest place in New Zealand. But that's also what brings pure magic to this place. After the heavy rains, local waterfalls appear in their full glory. Cascading from up to 162 m height powerful streams is a scene like no other. But even if you arrive here on one of gorgeous sunny days, don't get disappointed – huge mountains of this fjord that make even the giant cruise ships look like tiny kayaks will still take your breath away.
There are quite a few companies, offering regular tours around Milford Sound but we would recommend choosing Southern Discoveries, as they're the only company to also take you to the underwater observatory. Underwater life of Milford Sound is absolutely unique and a chance to see it with your own eyes is priceless. Prices for Southern Discoveries cruises with underwater observatory ticket start from $90 pp. Here is our article about exploring Milford Sound with Southern Discoveries.
If you're staying in Queenstown and driving your own car or van, you're very lucky, as there is so much to see on the road to Milford Sound! Glacier valleys, waterfalls, beautiful lakes that reflect the mountains around and, of course, lots and lots of epic high mountains, sometimes green, sometimes earthy and full of rocks – this road is an adventure in itself and I recommend to allocate at least 5 hours to explore as many locations as you can in no rush.
Lake Tekapo
You can't be in Queenstown and not visit the iconic Church of the Good Shepherd! This beautiful building is located on the shore of the picturesque Lake Tekapo. What a spot for a picnic! The road from Queenstown takes around three hours but it's a very scenic route, so you won't even notice the long drive (and it's not even longer than the road to Milford Sound, by the way!
I've heard that the Church is now surrounded by a barrier (not 100% sure in this information), which might ruin the impression a bit but it's still a place worth stopping for the views.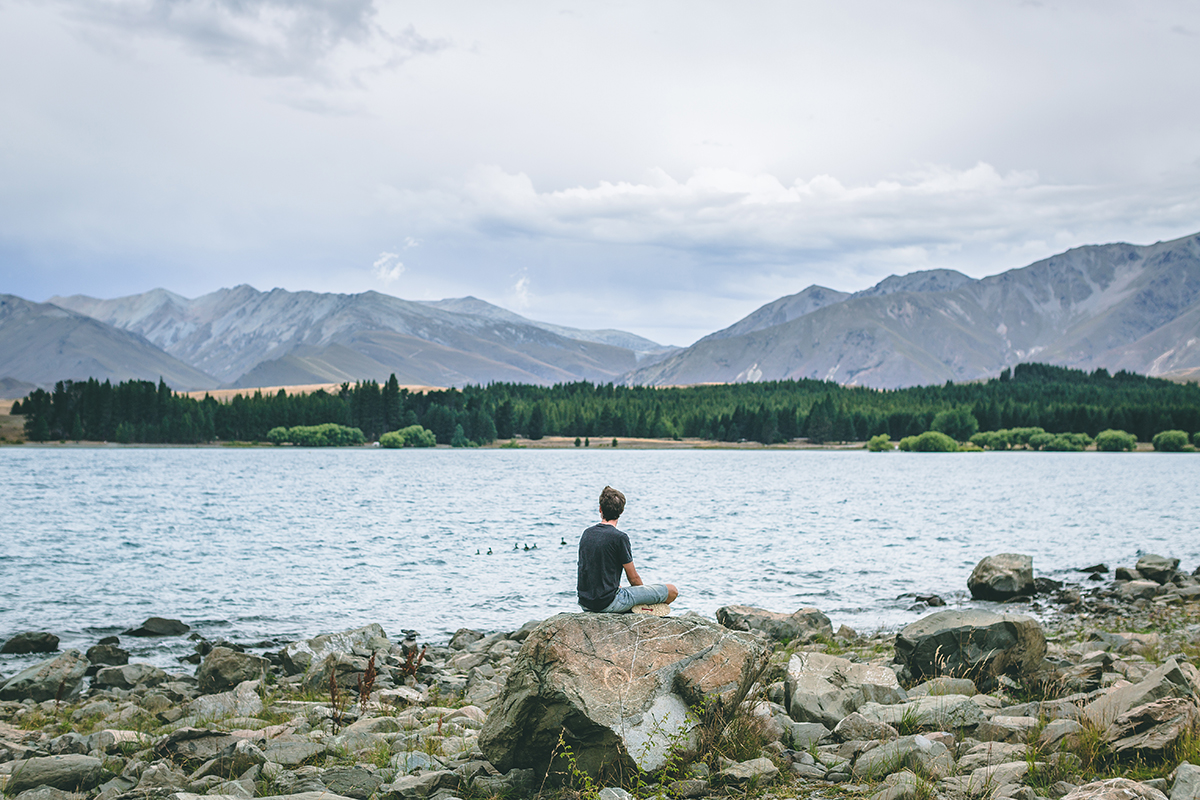 Besides being really beautiful during the day, Lake Tekapo is also known as a perfect spot for stargazing! If you're not in a rush, well worth staying for a night somewhere nearby.
Lake Pukaki
Yet another South Island lake with colour so blue it almost hurts your eyes. It's the largest of the local lakes and the one with spectacular views over New Zealand's tallest mountain – Aoraki/Mount Cook. This (freakin' cold) lake was formed by a glacier and still contains tiny glacier flour that gives Lake Pukaki its brilliant turquoise colour when reflecting the sun.
Arrowtown
Arrowtown is a charming little city nearby Queenstown. It was founded during the gold rush era 150 years ago and still preserves a lot of memories and evidence of the highs and lows of the hard life miners had to live in hope to find a big chunk of gold one day. With poor and even a bit scary tiny, half-destroyed huts of Chinese miners on one side and beautiful historic buildings where local 'aristocrats' used to live in the other, this town is full of contrasts. But it's also full of history and of its very own unique atmosphere that you simply have to check out! Read more about Arrowtown in this article.
Omarama Clay Cliffs
Lesser known but oh such a unique spot not too far away from Queenstown! These rock formations look like huge pinnacles somewhere on Mars. Otherworldly look is a gift from the glacier that used to cover these rocks, squeezing and compressing layers of gravel and silt for millions of years into the shapes you've never seen before.
Omarama Clay Cliffs are located on private territory and though it's a free adventure, be a kind person and leave a small donation at the entry. Behind the gates is a gravel road. It's not long but it's very demanding so be prepared to drive veeeery slowly and be veeeery patient 🙂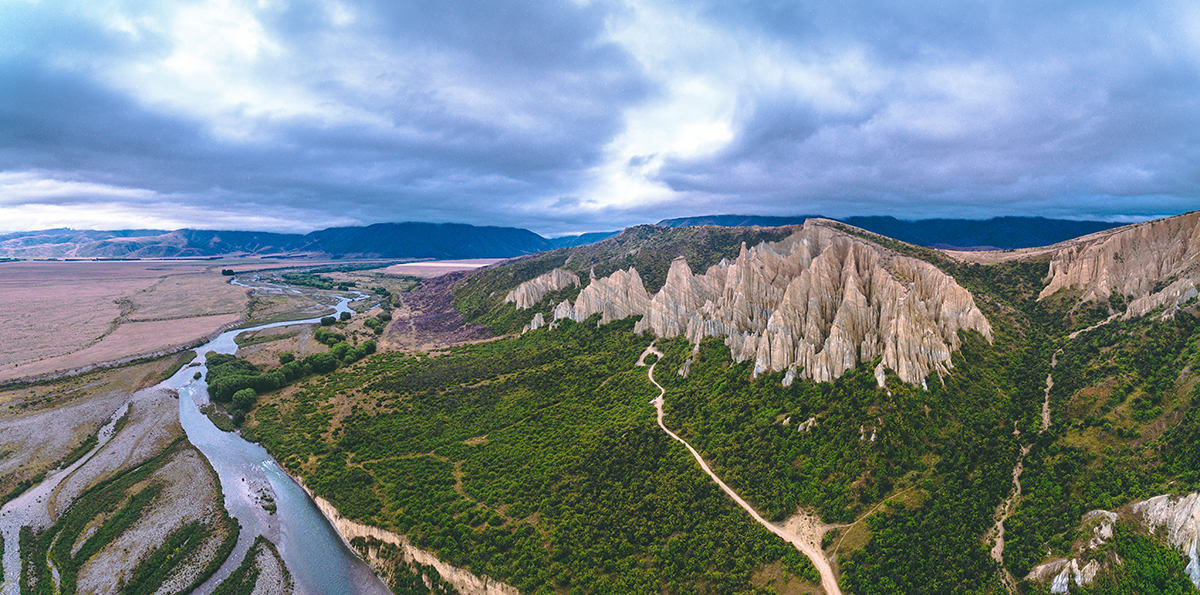 Tasman glacier
Tasman glacier is one of three glaciers in New Zealand. While it might not be as fancy as the other two (you can't walk on it), it's the biggest glacier in New Zealand and the only one with its own lake with icebergs, so it's an absolutely unique experience! It's also way cheaper than any other glacier that requires you to take a helicopter, not a bus + a boat 🙂 Read seven very convincing reasons to visit Tasman glacier on your next trip to the South Island of New Zealand.
P.S. We've ticked Arrowtown, Clay Cliffs and Tasman glacier off our must-see list in one day! You can totally do that as well, they're all conveniently located one after another when driving from Queenstown to Tasman glacier.
THAT Wanaka tree
Wanaka is a whole different story and deserves its own time to explore and its own article. Gorgeous both in summer and in winter, Wanaka has so much to offer for everyone – be it an extreme junkie, a person escaping from the crowd, a foodie… There is literally something memorable for everyone! But if you only have a moment and Wanaka happens to be on your way, like it was in our case, when we were driving from Queenstown back to Picton, make sure you at least stop to take a few photos of the legendary Wanaka tree. Despite what you see in our photos, it normally grows right from the water (bad timing!). Combined with an impressive scenery at the background, Wanaka tree is probably one of the most photogenic places in the entire New Zealand.
It will take you about an hour to drive from Queenstown to Wanaka.

LIKED THIS POST? PIN IT!