Much needed summer break is finally here. And just like it happens every year, we have plans larger than life for Christmas holidays throughout the whole year but when we actually wave goodbye to work and daily routine, we suddenly don't know where to start 🙂
Personally I plan to catch up on reading, TV shows and some photo projects we still need to tick off our to-do lists, spend time with friends I haven't seen for a while and, of course, enjoy leisurely morning walks every now and then.
Whatever you plan to do this summer holidays, make sure you're well prepared for that! In this post, I'll round up the best books I've read in 2019 for you to enjoy at the beach, some of the most exciting, funny and entertaining TV shows to watch when you don't feel like leaving home tonight, the most inspiring and uplifting songs to listen on a road trip, great summer destinations and other summer essentials.
Best summer destinations in New Zealand
It goes without saying, South Island of New Zealand is amazing all year round. But nothing beats lovely summer, when everything is in full bloom, the sun is shining (yet it can be pretty fresh in the morning), the lakes are sparkling and the birds and animals are wandering around, enjoying warmer temperatures. In case South Island is on your plan in the next few months, here is our recent article about 9 places to see in and around Queenstown.
Prefer hot summer days, tropical white sand beaches and an abundance of colourful fishes to swim with? Northland has it all. Here is our two-week itinerary for Northland that includes all the major attractions, some off the beaten track activities, best places to stay and the yummiest cafes of the region.
We decided to stay home this Christmas break for a change. Given the fact that we live in the city with some of the most beautiful beaches in the country, that wasn't that much of a sacrifice 🙂 If you wanted to visit our home, Tauranga and Mount Maunganui, in summer as well, check out this list of Top-27 memorable things to do in the area.
Don't forget to share the best moments of your summer adventures on Stories with our FREE filters for Stories. Filters for Stories help you to capture what you see in the most beautiful way by enhancing the colours of your photos or videos. Pretty much like presets you must've seen many times before, only for filters you don't need any special apps and they're FREE – one click before filming Stories and the filter is applied automatically! Visit @theStyleJungle from your Instagram app, find our filters under the smiley face icon (third from left) and add them to your Stories! You'll now see them every time you open Stories cam and can pick the one that suits current situation the most. From vibrant and colourful Cape Reinga, to romantic Depot to retro Cinematic Vintage or urban Auckland – there is something to suit every occasion! Make your Stories stand out.
---
TSJwear beach essentials
TSJwear is a clothing brand that features our photos of New Zealand as prints on T-shirts, backpacks, phone cases. But did you know we also have some really gorgeous beach items? Check them out and pick the one with your favourite location! We're donating part of TSJwear sales to Kiwis for Kiwi trust to help kiwi birds.
---
BEST BOOKS TO READ AT THE BEACH
2019 might've been one of the slowest years in terms of reading for me (just finished my 34th book) but it had certainly been one of the best for the book industry – so many new awesome publications! And while most of them are on my must-read list for the next year, here are some of the books I've already read and can totally recommend as an easy and very-very captivating read for those days at the beach.
Disappearing Earth. Julia Phillips. This is a debut novel by American writer who'd spent several years in Russian Kamchatka. The plot is set in Kamchatka as well and revolves around mysterious disappearance of two little girls one August evening. Further events are happing during a year after the episode and each chapter is a new month and a short story about a different family more or less connected with the disappearance – some just live their daily lives listening to announcements on TV, others had known the girls or their mum personally, third ones try to investigate the case or have someone in their family missing as well. Everyone's life on this isolated, remote part of Earth is somehow affected by the event. It's not a detective, it's not a crime or a drama. It's a series of interconnected short stories with many heroes and one main hero – wild, dangerous but spectacular Kamchatka. Mesmerising language, you won't be able to stop until you finish the last page!
Cosmology of monsters. Shaun Hamill. When someone's debut work receives compliments from Stephen King, you know it's worth reading. 'Cosmology of Monsters' is not your typical horror story. It's not scary, it's not creepy. But it certainly gets under your skin. It's unpredictable and so realistic I even had dreams about it while reading. In the centre of the plot are three generations of a family, described with so much love and kindness, you can't help but fall in love with each and every person. But for decades this family had been haunted by monsters and suffered a lot of losses and really dark, depressing moments. It's now up to their youngest son, Noah, to finally let the monsters in, find out what they want and stop the curse. But is he strong enough?
The Water Cure. Sophie Mackintosh. I must admit, after flipping the last page of this book I was thinking 'What the hell did I just read?' and couldn't say I really liked it. But The Water Cure is one of those books you NEED to read. And within the time, I realise that it evokes deep disgusting feelings that turn you inside out and that's why it's difficult to recognise immediately how good it really is. There are a lot of cliffhangers in this book and a lot is left unsaid. It's twisted, tenacious, it's like a web you get stuck in and can't get out. It's a story of three sisters who grew on a remote island with only their mother and father as a company. The family protects them from the toxic masculinity, which became literally toxin on the mainland and poisons people living there. They've never seen another men except for their dad but one day he went missing and two men and a young boy come ashore.
Brushstrokes of Memory. Karen McMillan. A book by New Zealand author is loosely based on herself (just like her heroine, she also survived breast cancer) but it's mostly a very touching, romantic fiction. When the main heroine wakes up at the hospital one day, she realises she lost all the memories of the past 10 years, including breast cancer and other depressing episodes. Her family and friends try to support her but will they find the courage to reveal all the truth and will she be able to handle it? The book was originally published in 2017.
Unstoppable: My Life So Far. Maria Sharapova. Published in 2017, this is a raw and very personal autobiography of one of the most outstanding female tennis players in history. Mostly the book is about Maria's childhood years – when she first started to play in Russia, how she and her dad left everything behind and moved to the USA to give her a chance to truly shine in tennis, where they've spent many years in poverty and sacrificed everything for Maria to keep playing, how she began winning and the industry started to notice her, how she became world's no.1 female tennis player at the age of 18 and much more. She also opens up about her disqualification from the big sport.
---
Best sunscreens to protect you from New Zealand's sun
It's not a secret that New Zealand has one of the highest rates of skin cancer and melanoma in the world (alongside Australia). New Zealand's sun is much stronger than what people get in Northern Hemisphere because there is less ozone above the country, there is less pollution here which also helps to block UV rays and the position of Earth brings countries of Southern Hemisphere closer to sun in summer than those of the Northern Hemisphere. That's why it's so important to use proper sunscreen all summer long! Here are some of my favourites.
NIVEA
What I love about this brand is that all Nivea sunscreens are fully compliant with Hawaiian Reef Bill, which makes them safe for coral reefs. So you can swim or get tanned at the beach without harming the marine life.
Also, for a few years in a row Nivea comes first in the annual Consumer NZ sunscreen tests because it meets both its label claims and broad spectrum protection requirements. This year, they've tested 20 sunscreens and Nivea SUN Protect & Moisture Moisturising Sunscreen Lotion SPF50+ outperformed them all!
I once did a wee test and applied Nivea on one hand and another sunscreen (that didn't make it to this list, obviously) on another and only the hand with Nivea sunscreen didn't get sunburned 🙂 By the way, I get sunburned very easily – even in a shadow, even with SPF 50+ – so it's a very great result!
Bondi Sands
Bondi Sands sunscreens have the best scent ever! It's absolutely irresistible. Non-greasy oil texture is very nice, fast-absorbing and refreshing on skin.
I also love that they're sprays, which makes it very easy and quick to apply them.
Bondi Sands sunscreens are free from chemicals that are dangerous for corals.
By the way, I also use Bondi Sands SPF 50+ Coconut Lip Balm this year and it's been a game-changer so far! No more dry, chapped lips!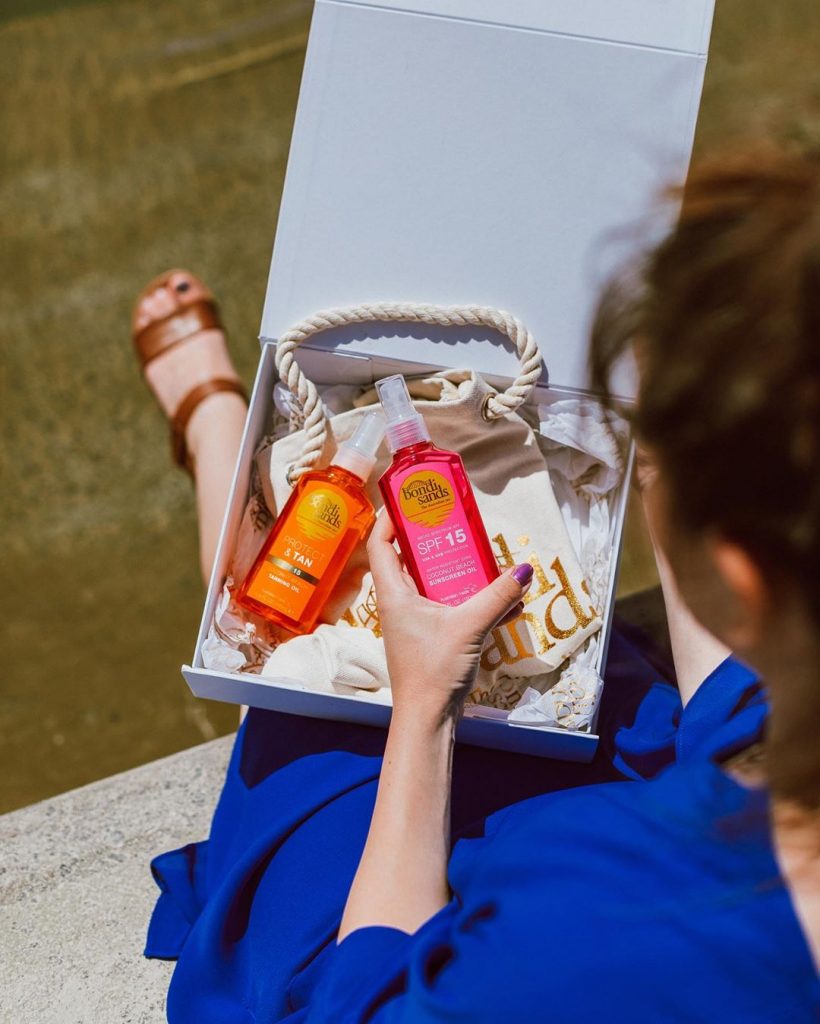 ---
Best TV shows to binge watch this summer
This year was outstanding not only in terms of new talented writers but also in terms of how many new awesome TV shows were launched on various streaming platforms and TV channels. I must admit, we've never spent THAT MUCH time in front of our laptops as we did this year, watching all the Netflix, Amazon Prime, Apple TV+ and other platforms' shows. Here are some of the most positive and enlightening new shows to kill time in summer. Nothing too dramatic or harsh, leave 'Chernobyl' (in case you haven't seen it yet) for the long winter nights!
Modern Love. If you can't stop once you start watching a season of a TV show, Modern Love is for you. It's not one plot stretched into several episodes but a whole bunch of different stories revolving around love and relationships in the modern world. So you can have a break after each episode! Each story is very touching, very kind and optimistic. Each episode is beautifully filmed in some very romantic, idyllic locations. And need we even mention brilliant Anne Hathaway in Episode 3 looking like a superstar that she no doubts is?
The Other Two. Hilarious comedy that will make you laugh your heart out. 'The Other Two' are siblings whose teenage brother (100% Justin Bieber look-alike) suddenly becomes an extremely popular singer. All the efforts of elder brother and sister to turn their mess of a life into something to be proud of are now affected by the fame of their younger sibling. The ways they choose to cope with the new reality are not often the smartest but are always driven by love and easy-going attitude. Very funny!
Good Omens. Handsome David Tennant as a sarcastic, loose-living demon Crowley is all you need to know about this show. Mini-series based on a famous book by Neil Gaiman and Terry Pratchett is as absurd as it is spectacular. Perfect summer entertainment!
Doom Patrol. Surprisingly good, this TV show about pathetic superheroes who have no idea how to be superheroes and prefer to hide in their secret mansion in the middle of nowhere instead, had all preconditions to fail, yet it turned out to be so funny, kind and aesthetically pleasing, it would actually be one great omission to miss it. And of course, impossible not to mention an outstanding performance of Diane Guerro, who really shines as Crazy Jane.
Why Women Kill. Don't get confused by the name. We've promised nothing too dramatic and the promise is kept. Why Women Kill is a dark comedy (exactly how we love it!), set in three different decades but in the same house. Three different families lived here in 60s, 80s and modern time and in each of them, a husband commits adultery and empowered, strong women are not having it. Hands down the most beautiful show of the year and stunning Lucy Liu had definitely outdone herself playing gorgeous, rich socialite from 80s. We would recommend watching Why Women Kill for her performance alone but the entire season is so bloody good, there are actually million reasons to watch it!
---
Best music for your summer road trip
Throughout the year we were regularly sharing our playlists with you. And here are two of them to listen this summer: December playlist with the freshest hits and our all–time favs, and Road Trip playlist created specifically for summer adventures. Click to listen to them right here or add them to your Spotify and listen whenever and wherever you like!
---
Liked this post? Pin it!