Hotel is just a place to crash after a day of walking around the new city, right? Yes and no. Sometimes indeed all we need is a short sleep break and literally any bed will do. But did you ever think, how much the place we're staying at actually influences what we think of the new destination? And after you're back from a short weekend break, long family vacations or sweet honeymoon, you'll be remembering not only those walks along the unknown streets or how you've conquered the most picturesque hill and all you could think about is how all world is yours right now… What you'll also be going through with a happy smile on your face are slow buffet breakfasts with unlimited coffee refill, sunsets at the swimming pool and, hell, even how you were watching the latest episode of your favourite Netflix show in that cloudlike bed, that is so soft and crispy like you're the first ever person to sleep here. Like it or not, but accommodation plays way bigger part in our travels that we're sometimes ready to admit. 
New Zealand is a very special country. It's so beautiful and pristine that simply traveling around with no special plans or purposes already makes you a better person of yourself. By uncovering more and more secrets of New Zealand, you're learning more about yourself and those people, who've jumped on this adventure with you. And doing that feels so much nicer when staying at a really unique accommodation that has all the comfort and facilities you need, that is beautiful and inspiring, but most importantly – that has soul. Because only places that have soul bring people together, sort their heads out and stay in our memories forever.
Here are some of accommodations in New Zealand that have made our vacations truly special and that we'll never forget.
Wacky Stays, Kaikoura
Lost on the outskirts of Kaikoura, this quirky farm has everything you might expect from a memorable accommodation: epic views over the mountains, lots of farm animals you can feed, heated outdoor bathtub, wooden BBQ area and, of course, all the comfort of the XXI century (think Wi-Fi, hot shower and heated floors) hiding inside a retro-wagon, a train carriage or a tepee. Waking up with alpacas peeking into your accommodation? Yes, please!
Art Deco Masonic Hotel, Napier
Luxury hotel at its finest. With beautifully decorated rooms, lavish breakfasts and photogenic vintage cars parked at the front. Art Deco Masonic Hotel is located in the very centre of this town and is such an important part of its art deco history, that choosing any other accommodation over it means missing out on the vibes of Napier.
Koru Hideaway, Matakana
It says a lot about the place, that originally it wasn't even meant to be a hotel. Lindsay and Brian bought the property up the hill of the scenic reserve to build their own house there. The house turned out to be really wonderful but a bit too big for the two of them (and three dogs), so they've decided to share those magical sunsets and tranquility with occasional visitors. Luxurious 'home away from home' with infinity pool, outdoor SPA-baths in each room and fully equipped kitchen is a perfect getaway.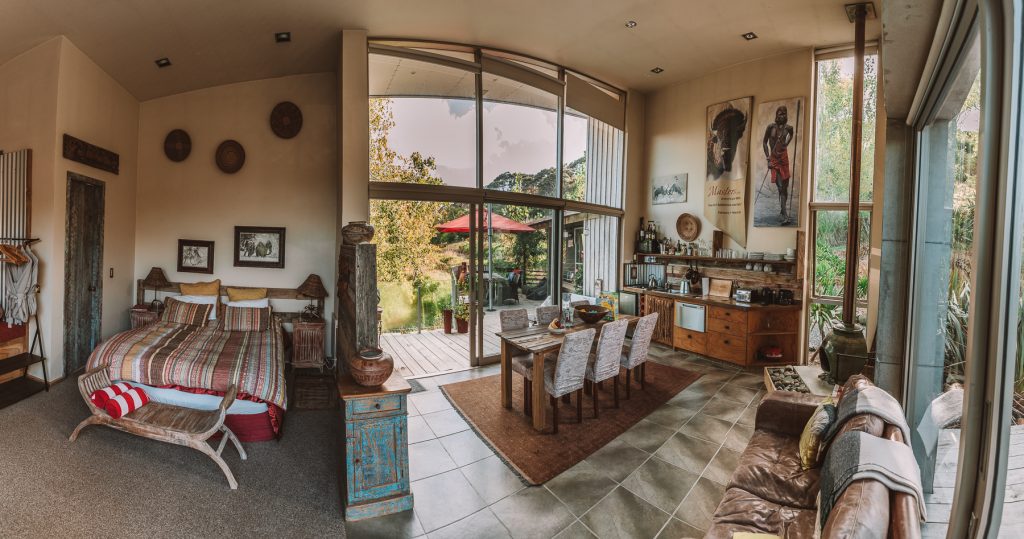 Kamahi Cottage, Waikato
The best part about this spot is that you'll be the only guest on the entire property. Oh no, wait. The best part is home-cooked dinner and hot breakfast (breakfast is already included in price and can include waffles, pancakes, porridge or whatever). Wait, wait, wait. Maybe the best part, though, is warm socks, bath robes and books you can snuggle with on a large bed upstairs… You pretty much got the idea by now, I think – everything is great about this New Zealand's only 5-star farmstay cottage.
The French Country House, Bay of Plenty
A piece of Europe in the Bay. The entire house was built around one very old and unique door that's now been proudly placed in the middle of the kitchen. Sounds weird? Wait before you see this place! Three rooms for gests to stay, large balcony overlooking Mount Maunganui in a distance and a living room with fireplace and high ceilings come straight out of our 'Downtown Abbey' fantasies. Only if the abbey was in France JYou certainly don't feel like staying in a hotel here, more like visiting your filthy rich sister in Europe.
Pin this post: