If you want to experience the fanciest Auckland has to offer, you go to Britomart: luxury shopping, fine dining and arguably the best ice-cream in the country – Giapo, brought to you by the beautiful Italian couple, Giapo and Annarosa.
Located at 12 Gore Street, this two-storey 150sq m sweet treat paradise is always crowded. When it comes to Italian hospitality, there are no borders, Giapo is a place to enjoy, to meet and to share, that everyone wants to be a part of. Nestled tightly next to each other, people are indulging into the generous servings of ice-cream at the cozy outdoor seating area, taking selfies with the famous edible artworks, sampling new flavours inside the store, chatting and laughing. There is something in these colourful scoops and cones, that turns guests into delighted kids, willing to share their joy and emotions with the complete strangers. Unlimited free chocolates, offered by the staff every other five minutes, is a wonderful add-on to the extraordinary experience. The store is opened til' 10.30 pm on weekdays and til' 11.30 pm on Friday and Saturday, and gets even busier at night.
With the background in food science, it comes as no surprise that pastry chef Giapo had elevated world's most popular dessert to a whole new level. He uses the upper floor of his store as a creative space, where everyone – chefs, guests and, of course, Francesca and Pasquale, their two kids – can express their ideas, experiment with shapes and flavours to create the most unusual ice-cream you have ever seen. Lights here are turned on 24 hours per day, because an inspiration has no days off!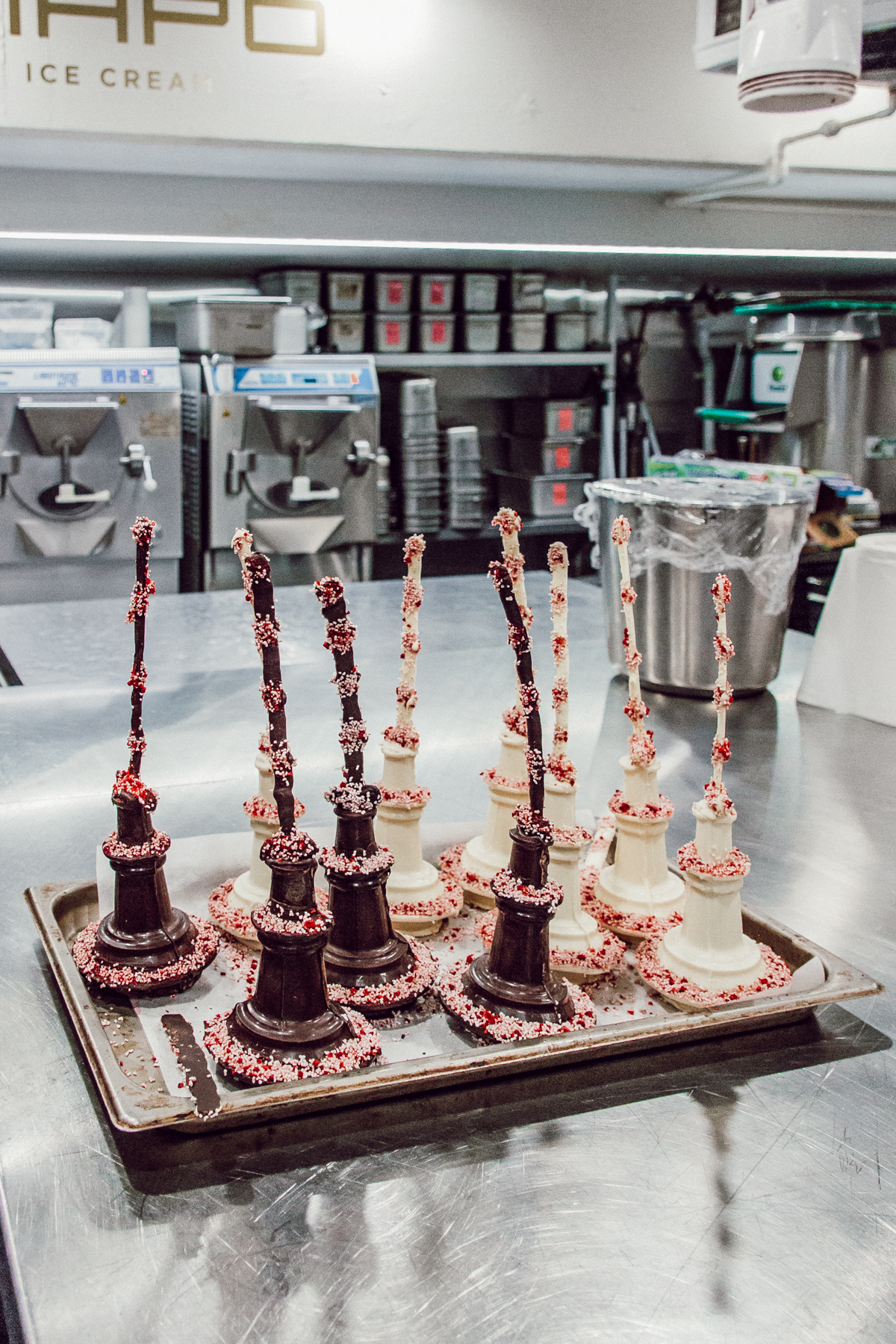 Hard work pays of with Instagram being flooded with pictures of Giapo's The Colossal Squid, created as a tribute to Te Papa Museum. Unexpected shapes is what they are all about. You can choose to have your ice-cream in Parāoa Parai (traditional Māori fried bread), or with Hot Chips as a side, or how about covering it in an enormous chocolate Auckland Harbour Bridge? Italian heritage of the couple is represented by Amrit's Roti (traditional Italian bread, used instead of a cone). Pretty much everything on a menu is closely connected with art, culture or architecture, that inspire the owner and his team. They take courses, read books and discuss everything they have heard or seen – education is a key to constantly coming up with the on-trend ideas.
But not the presentation only is important here. Giapo ice-cream boasts with mouthwatering flavours. They source ingredients locally and many flavours are seasonal. But there are some permanent hits, like Christchurch Hazelnut with homemade hazelnut spread and Dominican chocolate. Other 'Kiwi' options include Whangaripo Buffalo Milk with Pohutakawa honey and Otago walnuts, and Central Otago Sheep Milk with housemade Northland macadamia. Yum! We got blown away by the quirky mixture of Hot Chips served with coffee ice-cream, that balances the saltines of the chips so nicely. Another absolute favourite of ours is a Berry ice-cream with a touch of Martini in it. Knowing me, you would never expect I can enjoy something like that, and trust me, this ice-cream nearly escaped from a cone while I was getting ready to try it. The verdict? You won't taste the alcohol, but most definitely will enjoy the richest berries' flavour ever! There are also miscellaneous vegan and gluten-free menus, that would satisfy every avid foodie.
Of course, with the haute cuisine approach comes the corresponding price. While scoops in simple paper cones cost $8.50 – $11, should you only add pretty looking Deluxe Cup ($10), Selfie Cone ($18) or Auckland Sky Tower ($16) and an average price skyrockets to $25 – $35. Instagram 'Likes' would certainly be a great return on this investment:)