What do we truly and honestly know about Russia? The world's largest country is also the world's largest mystery. Decades of 'iron curtain' the outside world wasn't allowed to peek behind, followed by very biased but, I must admit, also very consistent depiction of Russia as a dull grey country whose idea of fun is to ride tanks across the Red Square in magazines and on TV, made even the biggest optimists out there believe there is nothing exciting about visiting Russia.
Well, that couldn't be any further from the truth. The country that had the most incredible royal history, the country that was home for many literature, art and science geniuses we all know and love, the country that stretches from Arctic to subtropics (the same can be said about the mentality of people living there, by the way!) simply can't be dull and boring. If anything, Russia is the country to visit if you love history, architecture, literature and art.
And the best place to see it all is, of course, Saint Petersburg – Russia's 'Venice of the North', former capital, and the place, where all the royals used to reside. Years after years of building and decorating Saint Petersburg in an attempt to impress and surpass any other beautiful European city lead to modern tourists literally forgetting how to breath when they finally see the opulent glory of this city with their own eyes.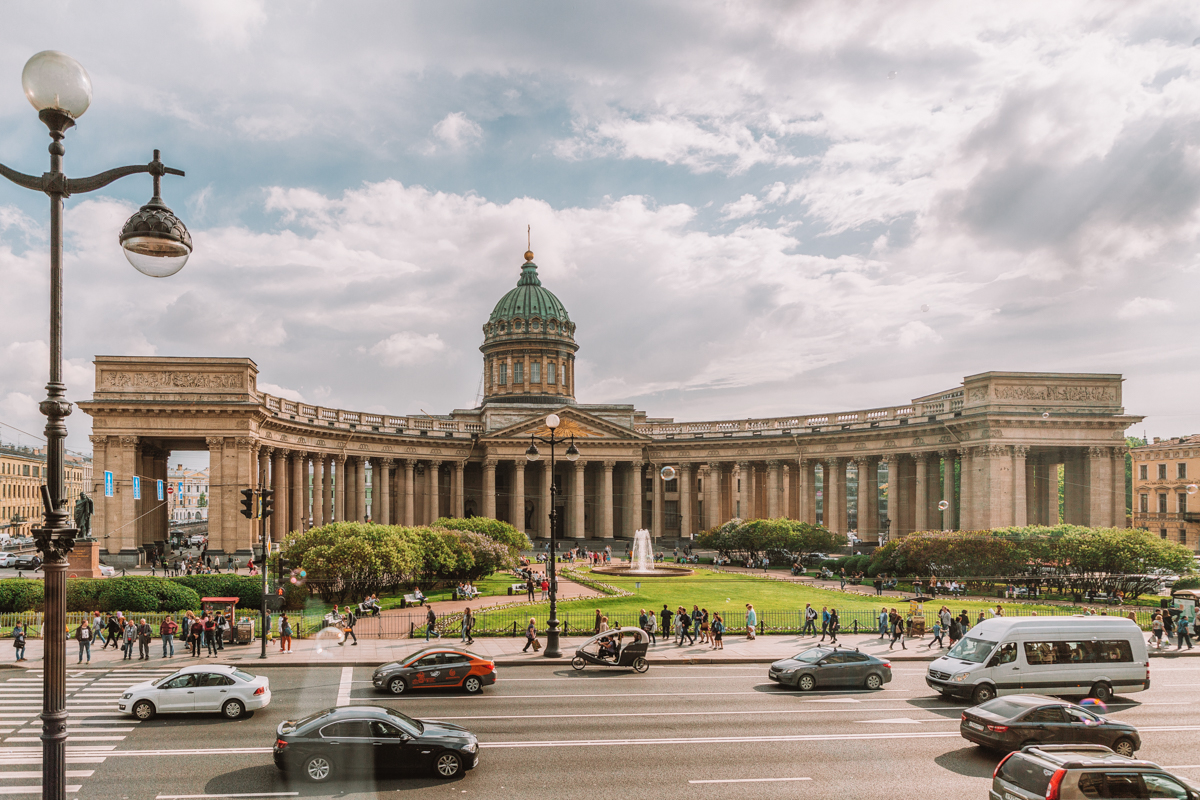 What you need to know before going to Saint Petersburg
Saint Petersburg is nestled on the shores of Baltic Sea, very close to Finland (we're talking 'trips to Finland for groceries on weekend' type of close), which means harsh winters with very short daylight time but also mild warm summer with the famous 'White Nights', when sun never properly disappears behind the horizon and you have almost 24 hours per day to explore and enjoy your time. The best time to visit Saint Petersburg for the 'White Nights' is June – mid-July.
Just like in any city in Russia, the official currency is 'rubles'. You shouldn't have any problems with the currency exchange as there are lots of banks around. But you can also use your credit card literally anywhere (though it's still smart to keep a little cash for souvenirs, etc.).
Many people in Saint Petersburg speak English. Or will at least more or less understand you 🙂
24/7 supermarkets, restaurants, bars and food delivery are not a problem. There are metro, Uber (called Yandex.Taxi) and car sharing services as well.
And yes, enough of those stupid movies! Walking around Saint Petersburg is not a tiny bit more dangerous than being in any other European city. Of course, there are shady people everywhere and a little cautiousness won't hurt but trust me, we have spent many nights as students strolling around the city and enjoying the time of our lives without anything bad ever happening to us. So, calm down and have some fun!
PALACES OF SAINT PETERSBURG
Let's get it straight, Saint Petersburg is stunning. The architecture of the houses and unique churches, the statues around the city, the spectacular bridges and gigantic squares – the extent to which Saint Petersburg is decorated is indescribable. No matter, whether you prefer to just jaunt around the streets and parks, or take a boat tour along the many rivers of 'Venice of the North', or swing by endless historic buildings, or even spend your evening at a rooftop restaurant overlooking the sparkling city in the dusk – you'll anyway be amazed by what you see.
But the most jaw-dropping sights of Saint Petersburg are, no doubts, its palaces. There are so many of them, all so different but equally interesting. Here are some of the coolest.
WINTER PALACE
The best one to start with and the one that's impossible to miss. Located right in the city centre, this monumental palace absolutely dominates the landscape and is a real emerald-blue precious stone seen far from the distance. No matter, where you're going, sooner or later you'll anyway be passing by the legendary Winter Palace, also known as State Hermitage Museum.
Built in a sumptuous 'Russian baroque' style by Italian architect Francesco Bartolomeo Rastrelli, it's a masterpiece both inside and outside. This architect definitely knew a thing or two about making the first impressions! And God knows, Russian history is all about being impressive… Neighbours, citizens or ex-lovers – as long as someone's watching, Russians will try to impress with their splendour, over-the-top, extravagant lifestyle. Especially when it comes to Emperors, who lived in this building from 1732 to 1917. 
Winer Palace is such a must-visit place, that despite there being over 400 rooms, it anyway is always ridiculously crowded. When is the best time to visit Winter Palace in Saint Petersburg then? I would recommend going on Wednesday or Friday in the afternoon – on these days it's open til' 9 pm instead of usual 6.30 pm but tourists' buses don't change their schedule and will leave earlier. You'll have a good three hours to enjoy the most beautiful rooms and world-famous artworks in a relatively tranquil atmosphere. Pro tip: start with the ground level. It might be less spectacular than the royal chambers upstairs and many people prefer just to skip this part of the palace, but leave the best part for when visitors disappear! Another tip – you can buy tickets in special electronic booths outside instead of queuing to the cash box. Not only it's faster but you'll also avoid the possibility of a cashier not speaking English.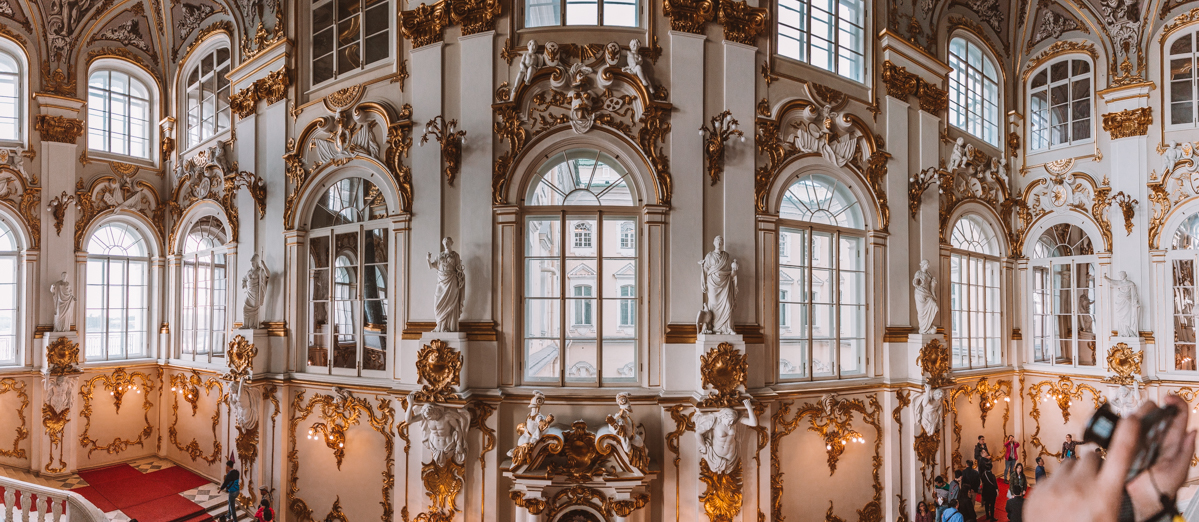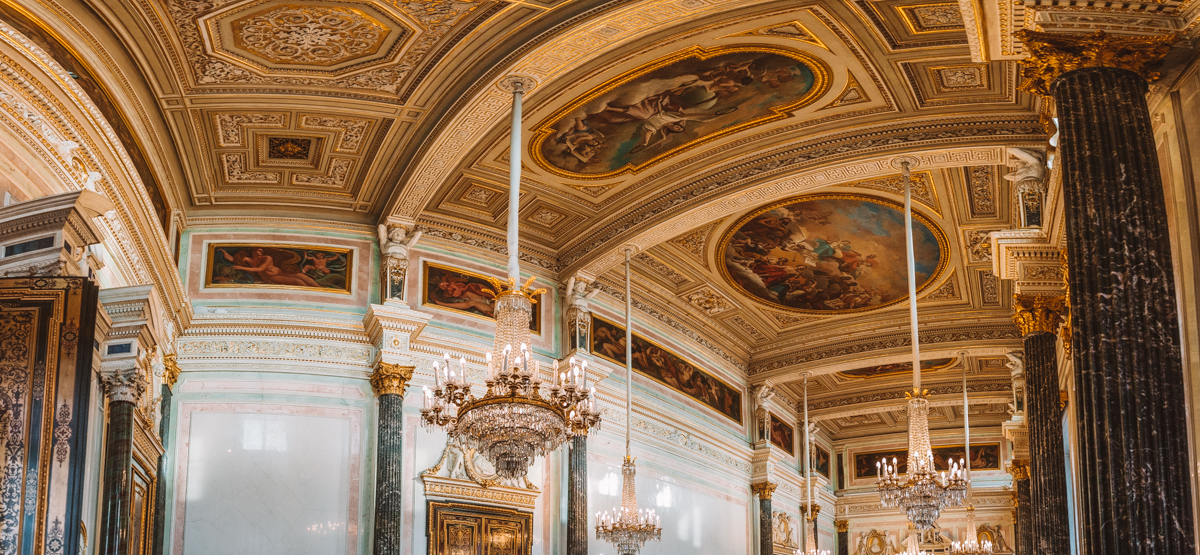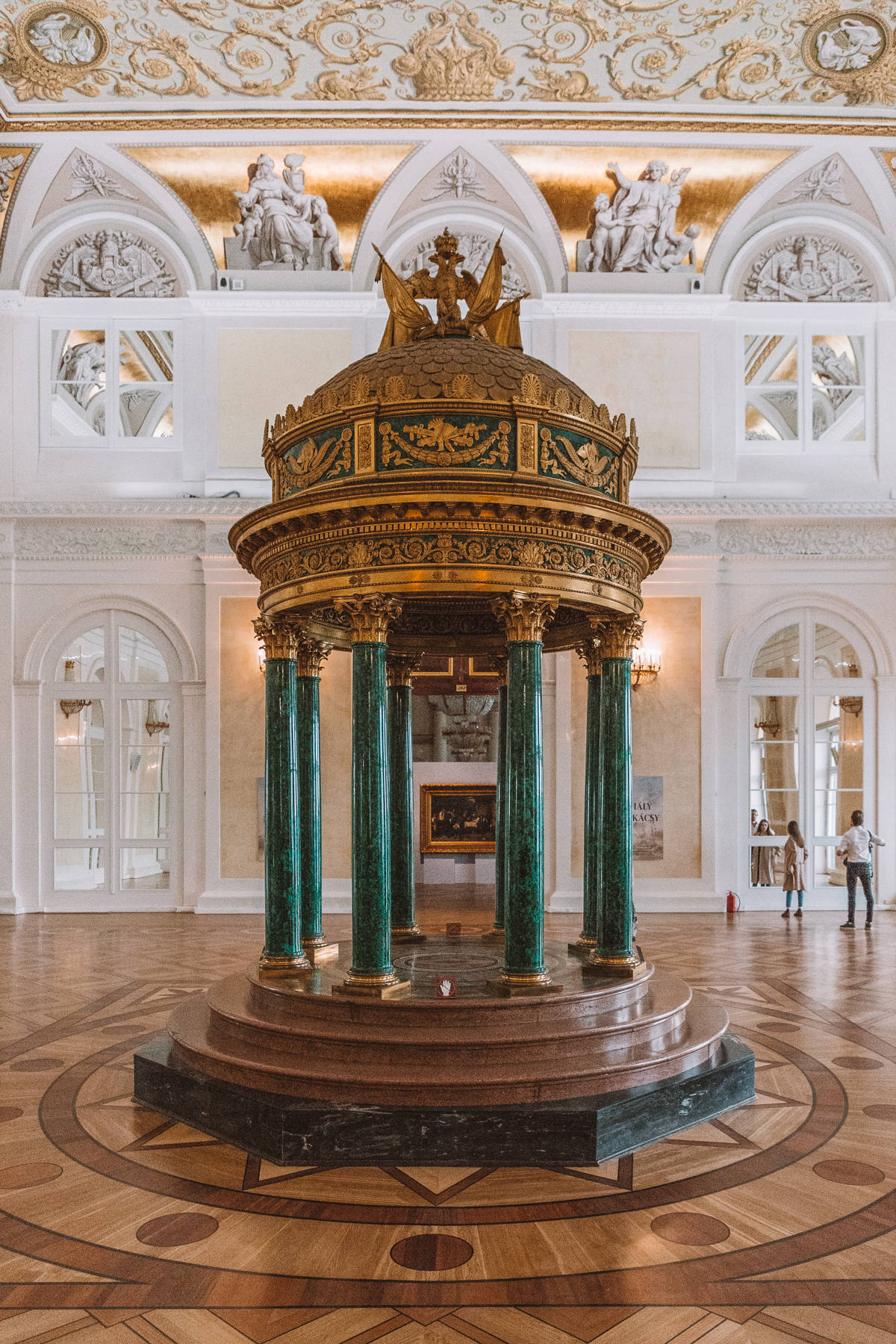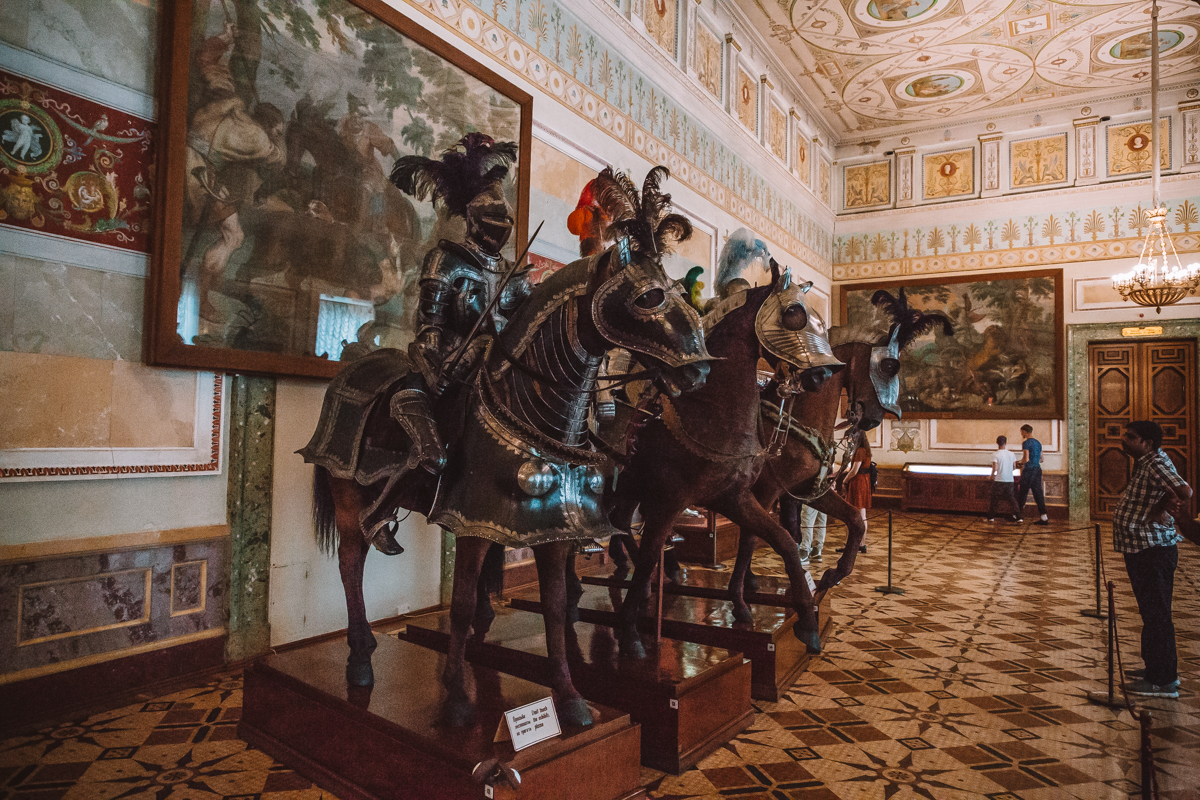 CATHERINE PALACE
Located in Tsarskoe Selo, about half an hour drive from Saint Petersburg, it's hands down my favourite royal residence. In XVIII century, it was gifted to Catherine I by Peter the Great, tsar whose name is inseparable from the history of the city, as he was the one to build it. But it was their daughter Elizabeth and her beloved architect Rastrelli, who truly started to form the area's current majestic view. 
Unlike Winter Palace, Catherine Palace is far not only about a building itself. There are absolutely incredible gardens around and many smaller buildings on the territory as well. Start with purchasing an entry ticket to the park and if exploring the area and admiring the architecture from the outside won't be enough, you can always buy an entry ticket to the palace later. The queue will probably disappear after lunch (but don't let it fool you – the rooms anyway will be sooo crowded!). Rooms here are not a bit less impressive than the ones in Winter Palace but they are smaller and you're not allowed to wander around freely, there is only a narrow path to follow, so sometimes taking your time to soak in the rich history and décor of the place can be truly impossible.  
Of course, Tsarskoe Selo is mostly known as an outstanding palace but to truly and deeply understand the significance of this place for the history, you should also know that it was the place where poet Alexander Pushkin was studying and where he met his life-long friends, most of whom turned out to be very talented writers as well. It's a place beautifully depicted in over 500 different poetry masterpieces by Anna Ahmatova, Mikhail Lomonosov, Fyodor Tyutchev and many others. Being a crazy bookworm as I am, I can never stop myself from imagining those legendary people sitting on a bench in the park and getting inspired by the colourful Russian autumn, or running around and having fun as all kids do, or falling in love, or being sad… Isn't it incredible, how so many years later you can still feel their presence here?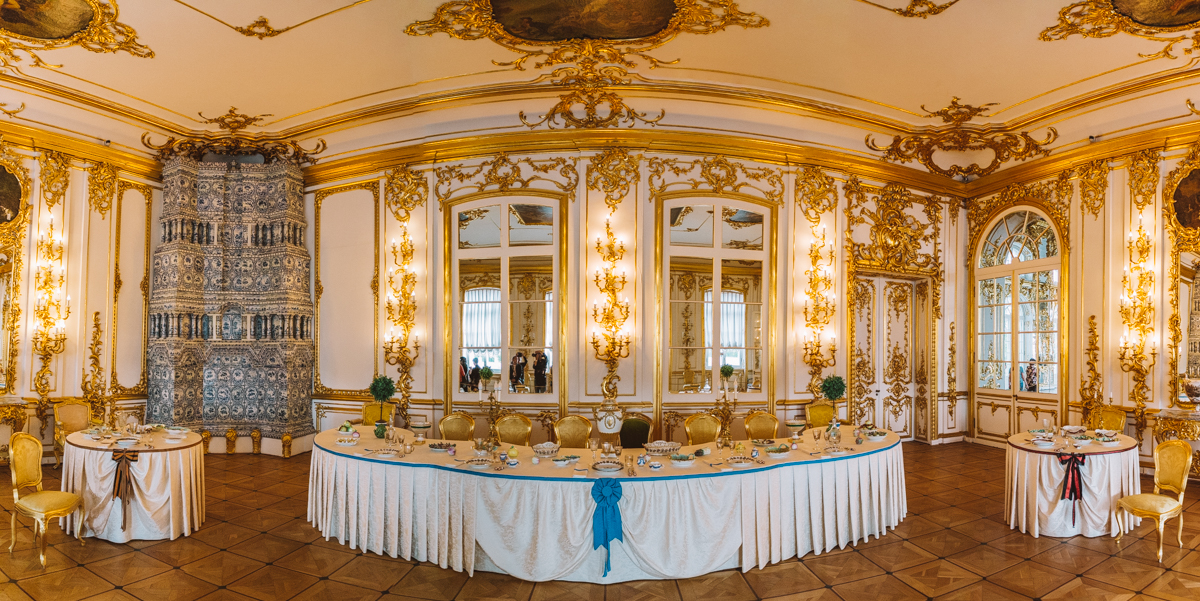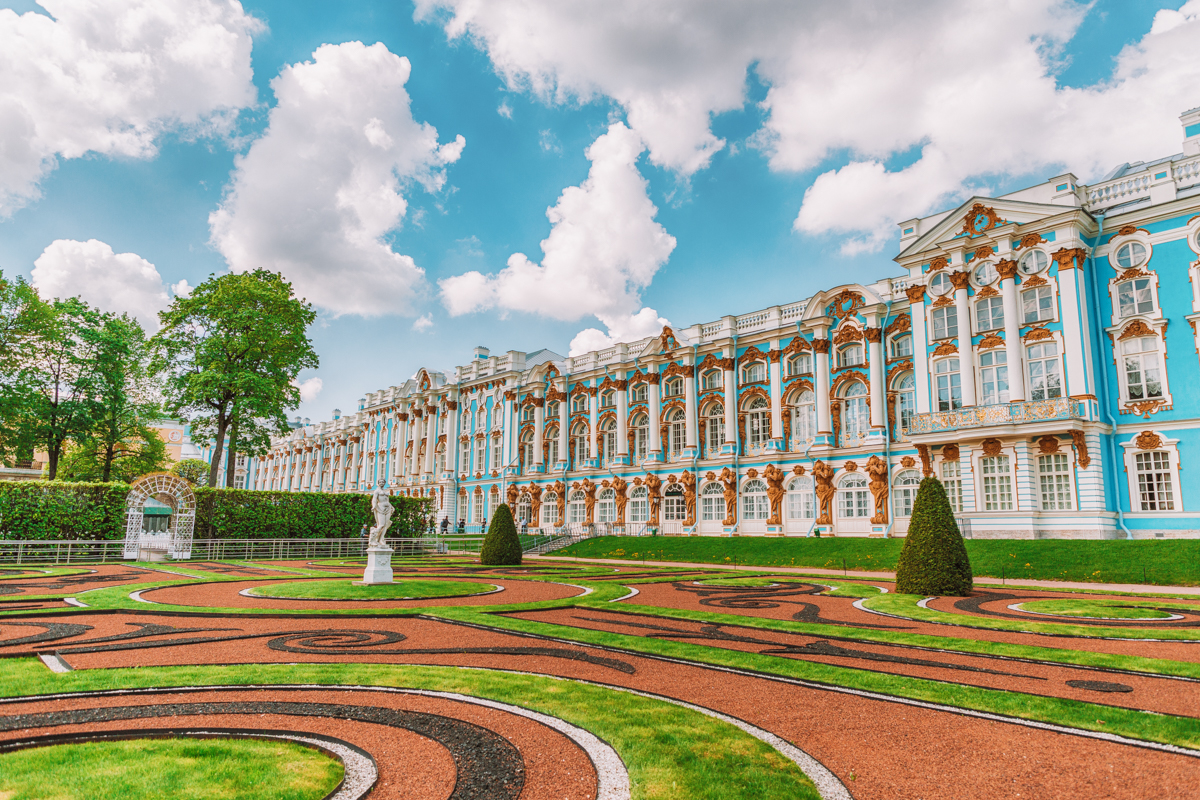 PETERGOF
Though not being a huge fan of this place (never loved too 'touristy' places), I'll be the first one to admit that it's absolutely tremendous and extraordinary. Petergof was Peter the Great's response to Palace of Versailles in France and, of course, he needed it to be just as (if not even more) stunning as it's French 'competitor'. 
Petergof is known for its fountains – there are 144 of them here, with 64 being a part of the Grand Cascade, and they were designed to operate without a single pump! And we're talking up to 20-metres high jets of water! Impossible as it seems but it's true. And remember, nothing is impossible when it comes to Russian royalty, right? Be careful, fountains do not operate all year round. You can only see Petergof in its full glory from end April to mid-September. And fountains are only switched on from 10 am to 6 pm. You won't regret arriving to Petergof early in the morning to witness the Grand Cascade being switched on. Pick a spot on one of the bridges in front of the Grand Palace and wait for the music and show to begin!
Unless you're visiting Saint Petersburg in winter and can't stay outside for too long, do not attempt to go inside the palace. Queues are endless and you definitely won't enjoy being squeezed inside without a single chance to look around. And Peter the Great didn't love the main palace anyway! He preferred to spend his time at a smaller single-storey Monplaisir, cosily nestled on the shoreline of the Gulf of Finland. This palace reminds more of a tranquil country house, with lots of light, entering the rooms through the large windows and glass doors, and a beautiful manicured garden at the front. This is one of my most favourite spots at Petergof!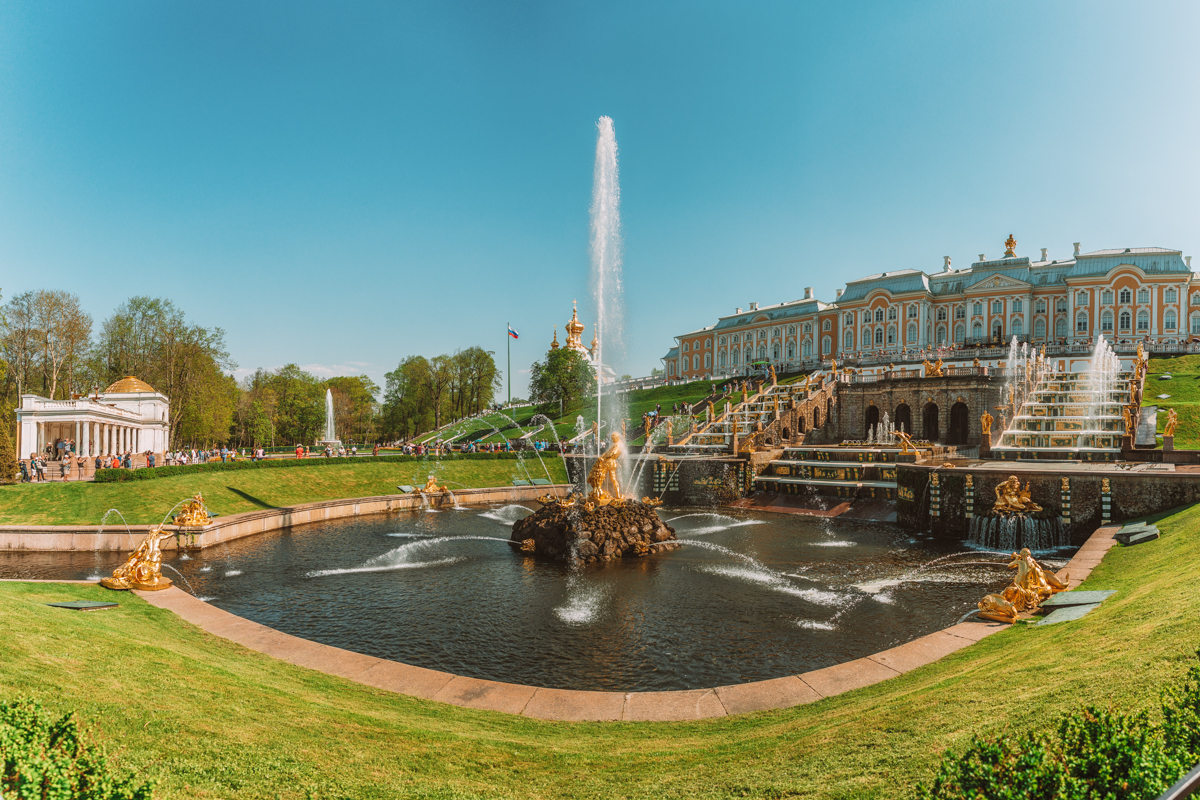 ORANIENBAUM
Now that we're done with the most popular palaces of Saint Petersburg, let's move on to less visited ones. The ones, that depending on the time of the year, might be a bit melancholic, or just tranquil and relaxed, or very warm and welcoming but no matter what, they will always be the palaces, where you can take a break from a 'crazy explorer' mode, sit on a bench by the pond, get lost in your thoughts and bring the history of this place back to life without being constantly distracted. 
And the first one to visit is Oranienbaum. It's the furthest you'll have to drive from Saint Petersburg but totally worth it as Oranienbaum is the only palace in Saint Petersburg that remained untouched by Nazi's during the II World War. It's also the oldest royal estate in the city, as it was founded in 1707 (a year before the first wooden Winter Palace appeared at the embankment of Neva river). Unlike previous palaces, this one wasn't the Emperor's residence as such, rather it was gifted to Peter the Great's right-hand man, Aleksandr Menshikov (who technically ruled the country for two years but was never officially a tsar).
There are so many different architecture styles here! The Grand Palace has an already recognizable Baroque style, there is also a sophisticated Chinese Palace and a real small fortress on the territory.
Modern Oranienbaum preserves so much history but it's also a pleasure to come here if you're just looking for some peaceful me-time. There are a small zoo and a lovely café with delicious pancakes right next to it and you can ride your bike around the territory! How cool is that?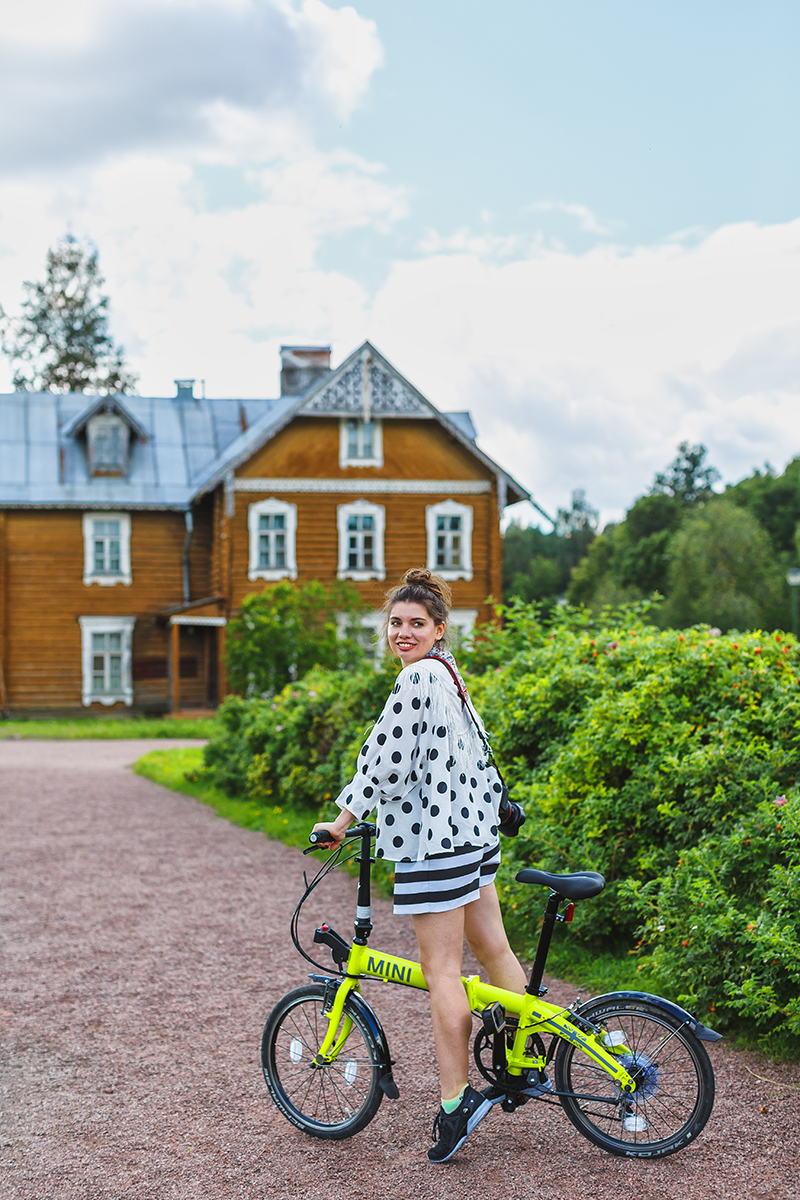 PAVLOVSK
This place not far from Tsarskoe Selo has the least buildings on its territory and dominated by the impressive neo-classical palace, located up the hill and surrounded by dense bush I always get lost in. The atmosphere of the youngest castle in the area is very different from any of those mentioned above. Pavlosk is a bit too formal and a little lonely and wild. As if it stands here desperately trying to match the glory of its neighbours but lacking their sophistication.
Though it had its opportunity to shine bright as well. For example, after tsar Paul I died, his widow Maria Fedorvna, a skilled artist herself, welcomed a lot of now world-wide known poets and musicians to the palace. Sergey Glinka, Nikolay Karamzin and even Johann Strauss II and Franz Liszt had all visited Pavlovsk. In XIX century, this town was even known as 'Russian Parnassus' thanks to many writers and poets gathering here.
By the way, the life of 'ordinary people' in Pavlovsk was described by Fyodor Dostoevsky in one of my favourite novels of all times 'Idiot'. Reading it before visiting Pavlovsk will definitely add to your experience!
Pavlovsk today is once again ruled by nature, not by human wishes and desires. Its massive landscaped gardens totally overtook the architectural part. It's a place to escape and to spend a few hours one on one with the charming local nature – after all, stretching across a whopping 607 hectares, it's one of the largest landscaped gardens in the world! 
GATCHINA
The smallest of all, Gatchina, unlike the rest of the palaces, definitely won't take you a whole day to explore. But hell, is anyway so worth the drive! And it's free!
Architecture-wise Gatchina is really different from any other place you've already seen. It's a real medieval castle. Massive, solid and a bit frightening even. Four generations of Russian tsars lived here and, I bet, felt really safe JIn fact, Alexander III indeed used Gatchina as a fortress after his father was assassinated and Alexander III didn't was really afraid to meet the same fate.
I love local park that reminds of those old British parks with beautiful bridges made of stones. Such a romantic place! There are three lakes on the territory, and I kid you know – the best view over the palace is from across the lake that reflects its sturdy shapes.
Before leaving the town, make sure you cross the street to see Priorat Palace on the Black Lake. It's best observed from a little distance, so climb the hill and view it from above. In winter, surrounded by snow and with a frozen lake by its side, this palace is straight out of the fairy tale. But it looks great in summer as well! Though way more modest than other palaces, this cutie is truly unique, as it's the only remaining 'adobe dwelling' building in Russia. Not sure that's the most accurate translation but the closest to 'adobe dwelling' style of construction I can think of is probably cob houses. It took only three months to build this whole palace and it was a very cheap construction! But more impressive is that the building didn't require any renovations at all for the next 85 years! You can also go inside to have a look at a small museum.
PETER AND PAUL FORTRESS
Finally, after navigating through suburbs, let's get back to Saint Petersburg, shall we? If you cross the mighty Neva river from Winter Palace, you'll find yourself at Peter and Paul fortress. It's an island castle, how exciting is that? Though it was meant to protect the city from the Swedish army, it never actually served this purpose, rather was used as a base for the city garrison and a prison for political prisoners. Also, it's a place where over 50 emperors and lords are buried inside a beautiful church (that was never really used as a church, rather as simply a tomb).  
Because of the walls surrounding the island, it's probably the best place in town to truly experience what it's like – to be in a fortress. Yet is it so spacious inside you hardly notice those walls! There is so much to see here! From the place where Russian money used to be produced to the place that was constructing carriages…Have a look around and pause on the main square by the impressive Cathedral. Its architecture is very untraditional for Russia and one of the largest collections of the church bells in the country is hiding inside. For over 300 years Cathedral was the highest building in the city and it was officially forbidden to build houses higher than it is! The first taller building in Saint Petersburg appeared only in 2012.
If you suddenly feel a bit claustrophobic inside the fortress, you can also observe the city from the walls of the fortress! It's so special! By the way, there is a beach outside the walls, so don't miss your chance in summer – when else will you be sunbathing with such a view over the historic city! From May to September there is also an annual sand sculptures festival happening here. Gosh, what an incredible masterpieces people make of sand. Must see!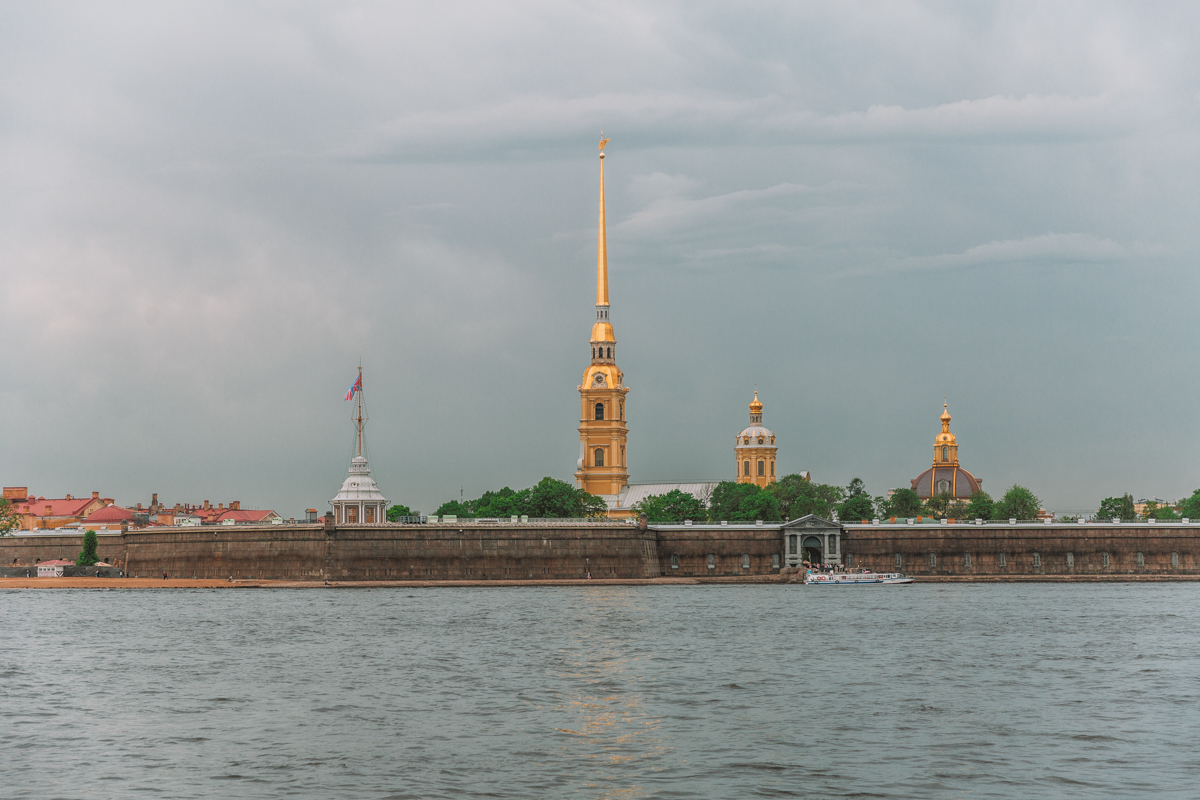 Liked this article? Pin it! 🙂
SAINT PETERSBURG TRAVEL VIDEOS
If you're a fan of visual content, we got you! We have a big selection of travel videos about Saint Petersburg, Moscow and other Russian cities. Visit our YouTube channel or enjoy them in the playlist below.