Have you ever noticed how should we only travel somewhere once and suddenly we're unquestionable experts in this destination, giving advice on where to go and what to do to everyone no matter whether they've even needed our opinion in first place or not? Excitement of discovering new destinations is so high, we feel we can literally burst from all the information on hidden gems and best spots the world needs to know about. Yet we somehow are never equally excited about the place where we live. Seeing the same views every day is not an adventure but a routine and it becomes hard to realise that our hometown is actually that wonderful and mysterious 'new destination' for many people as well. That's why, for example, in our blog you'll find detailed guide to Rotorua, places you need to see in Hamilton, not one but TWO guides the to Coromandel Peninsula (this one and this one) and so much more, yet, until now, it never occurred to us that what theStyleJungle blog lacks is an article on things to do and places to see in Tauranga and Mount Maunganui, where we live. Time to fix that and share the best activities, restaurants and views in the Bay of Plenty.
How to get to Tauranga
What used to be two independent towns – Mount Maunganui and Tauranga – is actually one beautiful city now, so for everyone's convenience, let's simply call this area 'Tauranga' now on. It's the biggest city in the Bay of Plenty and the largest port in New Zealand. But cruise ship is not the only way to get here 🙂
The easiest way to get to Tauranga is by car. It's a 2.30 hours drive from Auckland, 1.30 hours from Hamilton, 1 hour from Rotorua and 6.30 hours from Wellington.
You can also fly into Tauranga from Auckland (less than an hour), Wellington (just over an hour) and Christchurch (2 hours).
Why everyone should visit Tauranga and the Bay of Plenty
The fastest growing city in New Zealand attracts entrepreneurs from all over the country and boasts creative spirit and new approach to familiar things and, well, we have Mount Maunganui beach, so the rest doesn't really matter.
Whether you're looking for a weekend relaxing getaway with yummy food, barefoot adventures and water activities or willing to expand your business connections – Tauranga is your place of choice.
Top-10 things to do in Tauranga
Mount Maunganui hike. Thing #1 to do when in Tauranga. You haven't been here if you haven't walked up The Mount. This is one of New Zealand's Top-10 most photographed views for reason, after all. The hike is fairly easy and not too long. It takes about 45 minutes if your pace is relaxed and you make a few photostops along the way (trust me, you will). At some stage you'll see a sign, explaining that the route on your right is 10 minutes longer – don't let that scare you, that's also a more scenic side, where you'll be admiring spectacular water views all the time. So take this one!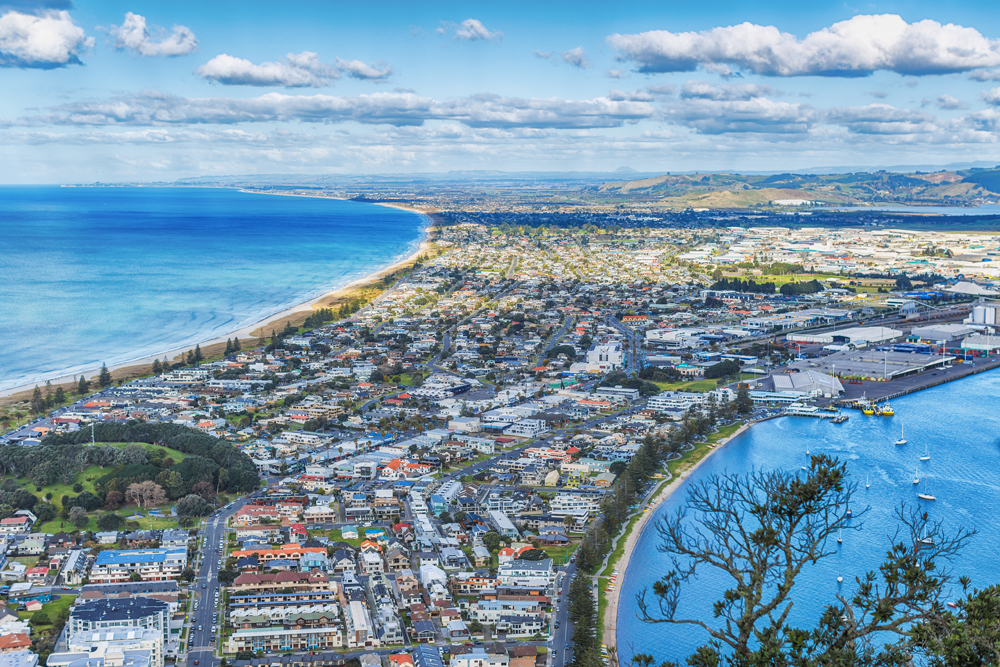 Papamoa Hills walk. Another beautiful short hike in Tauranga, that lets you admire not only the water and city views but also the most incredible view of The Mount itself. Every time we come here, we just HAVE TO stop by the friendly cows who come really close to walking tracks. They are so fun to watch!
Te Puna Quarry Park. When people take something ugly and turn it into something beautiful, the result is always really fascinating. That's exactly what happened with a giant old quarry not far from Tauranga – a bunch of volunteers planted trees from all over the world and decorated this place with various sculptures, benches and little themed gardens for us to enjoy. You can support their efforts by a donation (there is a special box next to carpark) or even become a volunteer yourself.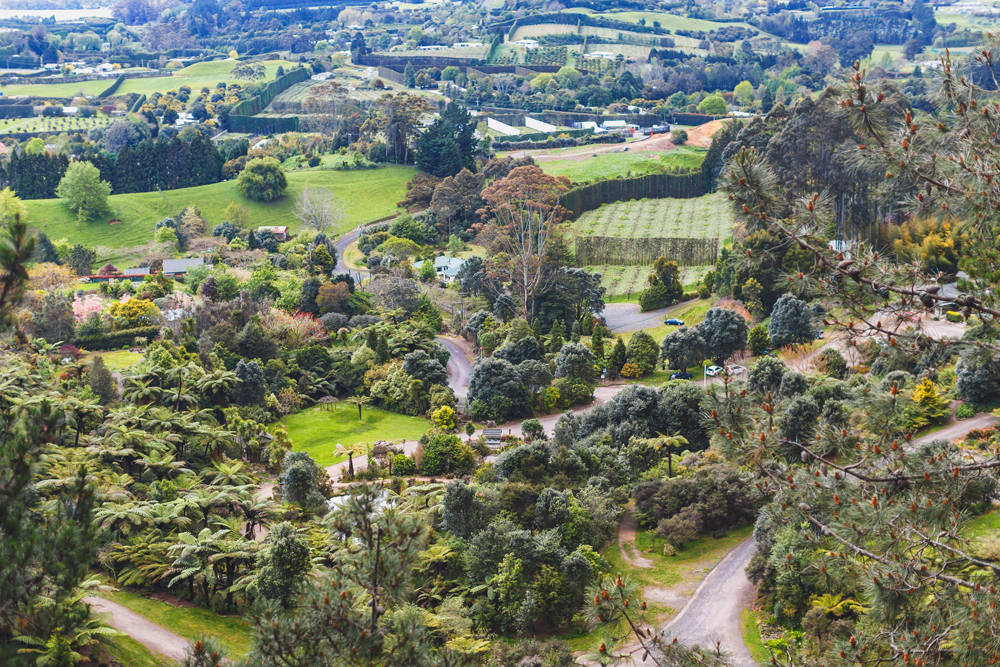 McLaren Falls Park. Great place to have a picnic with kids (there is also a little zoo there!) or with your friends, if you're more into disco golf, kayaking and long walks. Speaking of the long walks, by the way, there is this absolutely magical, barely ever visited by anyone area in the furthest part of the park, that takes you up the hill and deep into the bush. We got lost there once 🙂 But it's absolutely spectacular and will most probably be all to yourself. Among more accessible 'touristy' spots are the waterfalls, of course (our favourite is the one inside the park, there is a carpark right next to it, so drive past the first few you'll see on your way), a cosy cafe right by the carpark and a wide area around the lake. And don't forget you can see glowworms here at night! To be honest, there is an abundance of waterfalls in the Bay, here are yet another three lovely local waterfalls, if you decide to explore more.
Our Place. The newest addition to Tauranga CBD landscape, this container city is a vibrant spot for foodies, shopaholics, music lovers and just friendly people, keen to spend time in a great company. From street food vendors to second-hand fashion outlets and live music – this place has all your 'Friday night' needs covered. They open quite late, by the way, around 11 am, if I'm not mistaken, so don't plan a trip here first thing in the morning.
Mount Hot Pools. Our pools might not be the most fascinating hot pools in the country but it's such an impressive place to be at sunset on a lovely summer day, when the sky gets coloured in all shades of pink and orange and an impressive silhouette of The Mount towers right in front of you. Proximity to all local restaurants and bars means you have your hearty dinner sorted as well (does everyone get super-hungry after swimming or is it just me?) And it's also a very affordable attraction – under $15 for an adult ticket! Definitely worth every penny.
Historic Village. It's a very interesting immersive experience that recreates the life of Tauranga the way it was around a century ago. You can visit the church that was built using the materials from many other old churches of New Zealand (it's beautiful!), pop by at the local radio station, run entirely by volunteers (they are always keen to give visitors a tour), look through some artworks at The Incubator and have a delicious and Insta-worthy lunch at The Whipped Baker. Awesome place that deserves way more attention!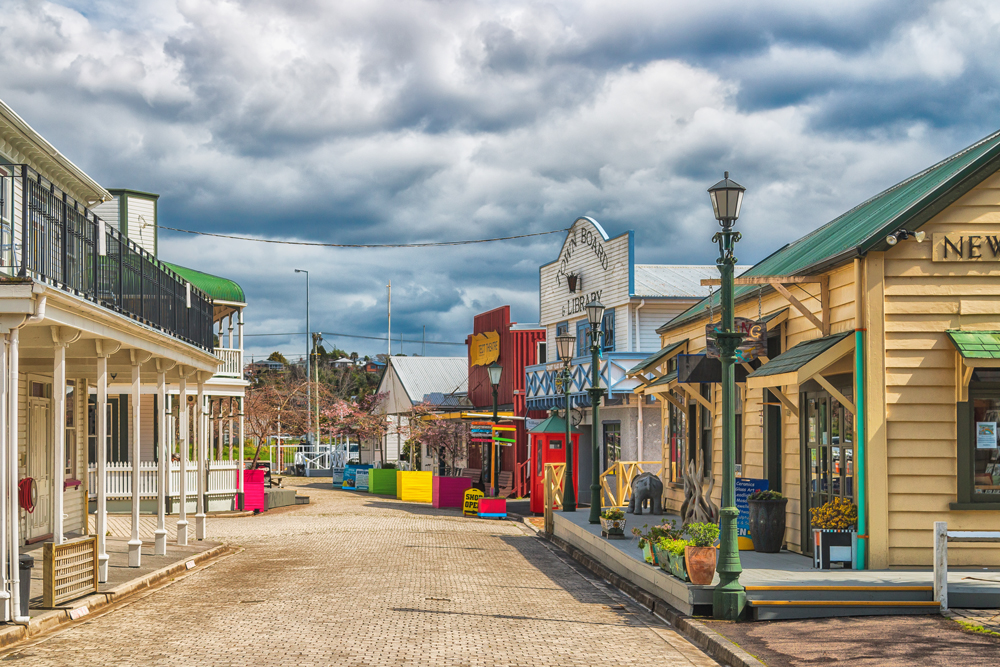 The Elms. I might be biased because of the cutest wee library they have there but I ADORE this place. Tucked at the outskirts of CBD, hidden from curious eyes, this is a small oasis of history in Tauranga. You can wander around freely or pay a tiny sum for a tour. I don't remember the exact price but it's something like $5-$10 and worth so much more as you get an access to the main house and the workshops that are rarely open to public and learn a lot of interesting facts about the early history of this town. And don't leave too soon, walk among the trees on the right from the entry – there are some pretty old and huge ones!
Classic Flyers NZ. I don't see this place on 'Tauranga must-visit' lists too often, yet it's an absolutely extraordinary collection of retro aircrafts and all things aviation. Most of them you can see right from the carpark or while indulging into a delicious coffee at the local cafe, though if you want to have a closer look, you'll have to pay a small entry fee ($15).
Karangahake Gorge Windows Walk. Ok, that might not be in Tauranga exactly but just a short drive from town, in a heart of gold mining region, lies a very picturesque walk that you simply can't miss. It's an easy 2 km loop that leads you through the native bush with the remains of gold mining, along the river surrounded by epic cliffs and – that's the best part – inside the old tunnels, previously used by miners. You'll need a torch or at least your iPhone light here! Epic adventure lvl 80.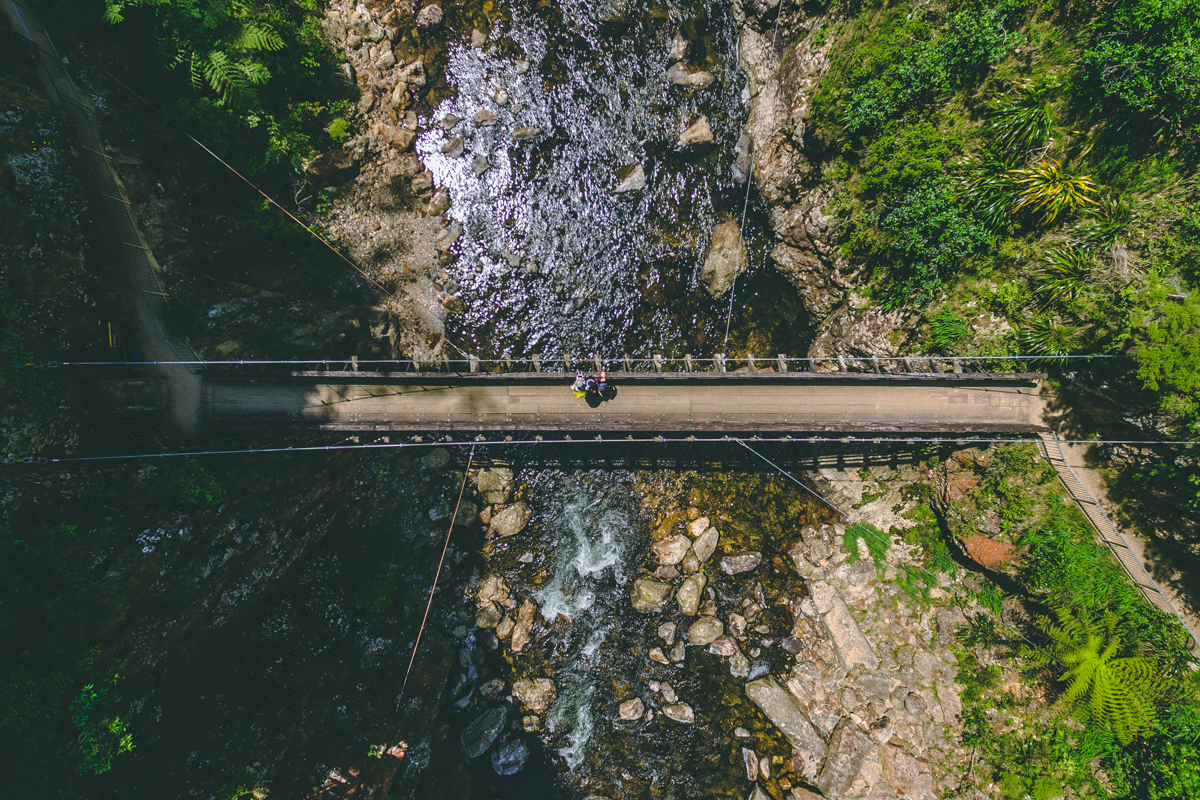 Best events in Tauranga
It's always great to check out some outstanding local festivals or expos, that you don't have in your region, while visiting another town. Tauranga and the wider Bay of Plenty have a lot of original events to be proud of. Here are a few you might like.
Bay Dreams and One Love are the two biggest music festivals not only in the area but probably in the entire country. Bay Dreams usually happens in early January, with the likes of Cardi B, DJ Snake, Pendulum and other international celebs performing on stage. One Love takes place in late January – early February and it's a pure paradise for reggae lovers.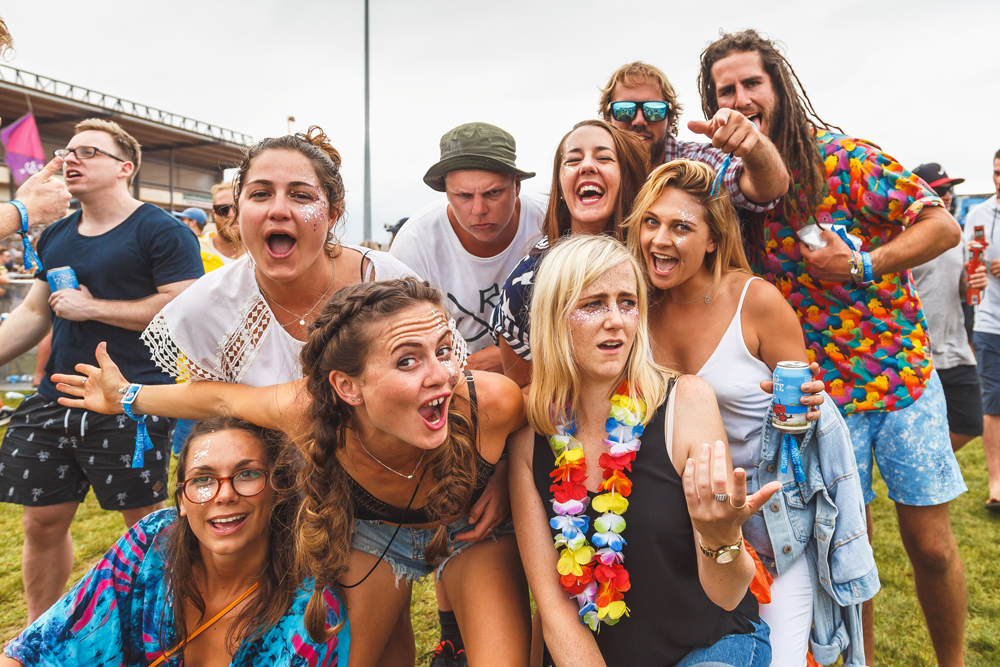 Tauranga Arts Festival is a huge biennial event taking place in October-November. It's a celebration of all things theatre, music, literature and art, with many international and New Zealand creatives performing, sometimes even exclusively, in Tauranga. The festival normally lasts for around 10 days but the list of events is almost endless, so make sure you check the programme online in advance in order not to miss on the most interesting performances and exhibitions.
Outdoor Summer Shakespeare Season. Every year in January beautiful cobbled streets of Tauranga Historic Village become a place of either tragic or funny events we all know from Shakespeare's famous plays. There is something surreal in watching the play outdoors, while the day slowly comes to an end and gives way to sunset first and then to a complete darkness. Come earlier to grab some food and drinks and don't forget your blanket, it might get quite brisk even on a summer night!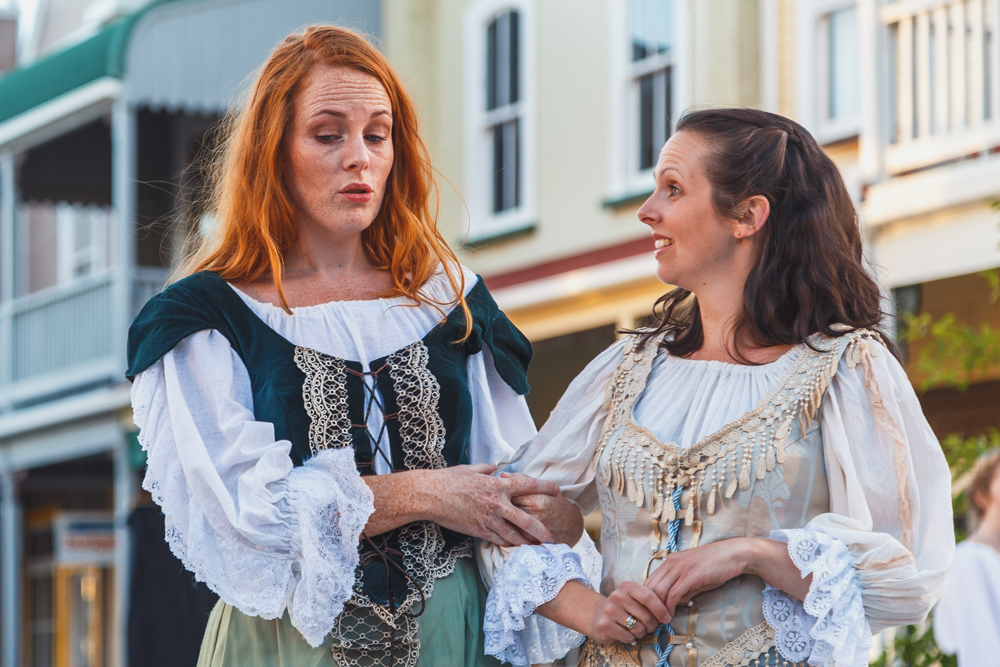 Tarnished Frocks and Divas. Another biennial event that is simply startling in all the passion and professionalism, poured into producing this show. One of the biggest local shows runs for three days only and attracts almost 10,000 visitors. All the actors are volunteers, including A-list superstars donating their time and talent to the show.
National Jazz Festival. Four days of all things jazz all over the town is a thing to see, for sure! Jazz concerts, jazz sunset cruises, jazz high teas and many other creative ways to listen to good music are here for you every April.
Where to eat in Tauranga
Tauranga peeps are good in many things but something local talents are truly EXCELLENT in is cooking delicious food. You'll easily find lots of yummy, flavourful, aromatic food from all over the world here.
The Nourished Eatery. Our go-to vegan spot in Tauranga CBD. Owned by the loveliest of humans, Sharna McElligott, this cafe is dreams-came-true not only for vegans, I know a lot of crazy meat-lovers who can't resist her famous donuts or juicy jackfruit burgers. If you want to bring some of her signature recipes home, you can purchase Sharna's cookbook 'In Our Cabinet' at the cafe.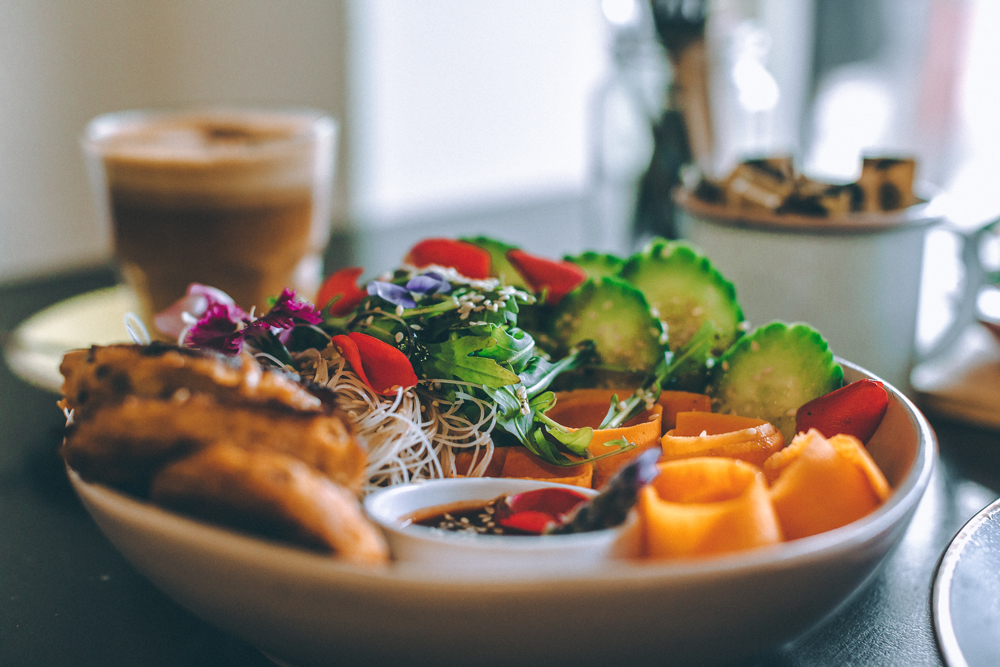 Barrio Brothers. There are two of them – in CBD and at The Mount. If you're not only after a delicious dinner but also a cool atmosphere, pick the one in Downtown Tauranga, it has such an incredible outdoor patio, with large sofas that are more like comfy beds – so authentic. Portions of everything are super-huge!
Burger Burger. World's best burgers are served here! Burger Burger takes this simple food to a whole new level. Oh, and spiced edamame beans are to die for, seriously. This whole new al-fresco dining area at Bayfair, that Burger Burger is a part of, is so cool and gorgeous, do not hesitate to check it out! They have vegan and vegetarian burgers.
Hawker and Roll. You might've already tried these Malaysian noms in Auckland, Christchurch or Queenstown… Well, then you know that Hawker and Roll in Tauranga certainly wouldn't be a disappointment as well! Located in a brand new beautiful Tauranga Crossing, this cafe serves the yummiest vegetarian laksa (prawn one thoug definitely lacks in prawns).
The Rising Tide. One of the mastodons of Tauranga food scene, The Rising Tide at The Mount needs no extra introduction. Yet, here is a short one in case you've spent the last few years of your life underwater with no Wi-Fi, newspapers and word of mouth: it's a brewery with many options of beer to choose from and the most delicious dumplings from Johney's Dumpling House. A great, buzzing place to be at night! Vegans should definitely try Tiki dumplings – omg, so good.
Me & You. Such an amazing breakfast/lunch place! It's quite small but beautifully decorated – reminds me of vibrant New York City cafes. Pop by for beautiful, Insta-worthy food that is also really yum.
Fish Face. Funny name – great food. This restaurant at The Mount serves mouthwatering seafood dishes: mussels, prawns, calamari, all sorts of fish – you name it, they have it. Seafood chowder is rich and satiating, perfect for winter days.
Mixture Eatery. This place might be a little bit outside of the main Mount area but trust me, food here is worth the walk. You'll love the industrial interior with bright spots of greenery – great fit for this flash new building. But back to the food, which as you might've already understood, is fantastic. Especially breakfast dishes. Or brunch. Or lunch. Just come here and see for yourself!
Day trips from Tauranga
White Island (CLOSED). Hands down the most spectacular place of the Bay is located an hour drive away from Tauranga, in Whakatane. Of course, I mean New Zealand's only active marine volcano – White Island. Here is a more detailed article about our White Island experience. After the tragical events of 2019, White Island tours are no longer available.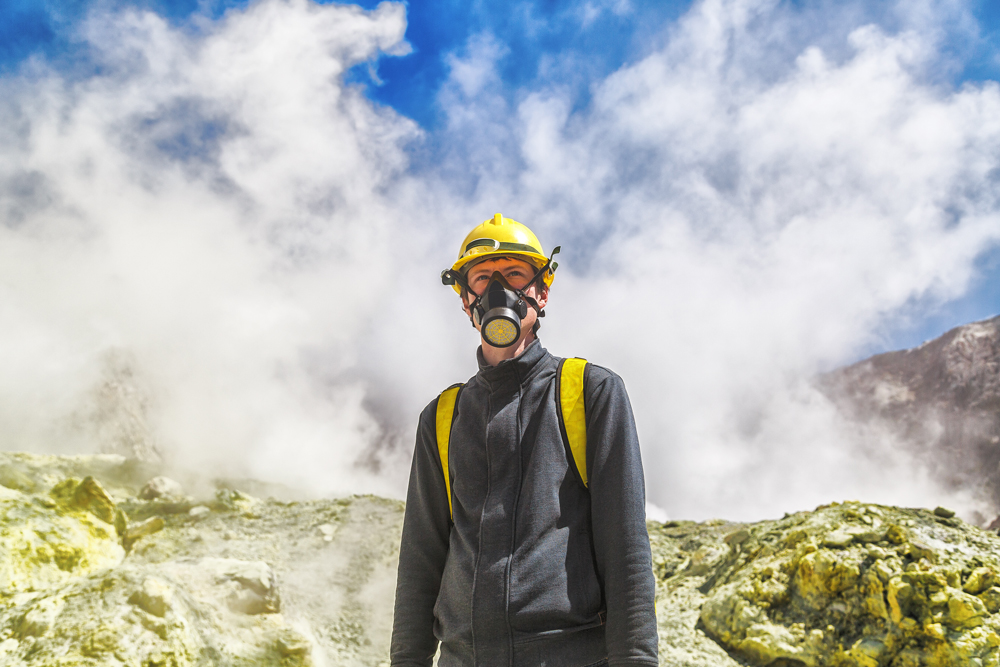 Hobbiton. World-famous 'Lord of the Rings' filming location is not too far away from Tauranga. There are quite a few locations you can start your tour from (Matakana, Rotorua, even Auckland) but if you're staying/living in Tauranga, you're the lucky one, as the cheapest ticket is also your best choice! Drive all the way to the Shire's Rest and jump on a bus that will take you to the location in less than 15 minutes. Read more about Hobbiton – 'must do' New Zealand destination.
Rotorua. Oh, I'll never stop repeating how extraordinary this little town is! So much to see and do and everything is so close by! It takes only an hour to get to Rotorua from Tauranga but it will definitely take you more than a day to explore everything this steamy and adventurous destination has to offer. Here are a few of Rotorua's must-visit places. If you only plan a short visit, make sure you include one of the volcanic valleys (here is a comparison of the three most popular ones), one of the Hot Pools and a Treewalk. Ultimate Rotorua experience!